Bollywood review: Manish Paul is no match for Ali Zafar in 'Tere Bin Laden' sequel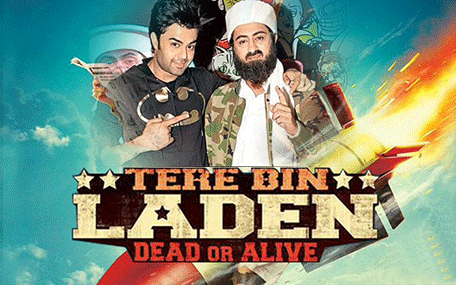 Sequels don't always charm like the original. It rarely does.

A lesson many filmmakers fail to learn, even when box-office numbers and audience approval hint otherwise. Often, directors are so blinded by the love their first movie got, that they gleefully give in to the idea of weaving out a second part. Never quite understanding how damaging it could be to them, and to the original, if the second installment fails.

Director Abhishek Sharma will possibly learn it the hard way.

While we can still laugh (out loud) and cheer his wickedly hilarious 'Tere Bin Laden', where an Osama doppelganger and his reporter friend decide to fake a video to make it big, we can barely conjure a few chuckles for his sequel.

A limitation even he was (possibly) aware of. Why else would he devote the first 20-30 minutes of 'Tere Bin Laden: Dead or Alive' to a journey back in time to celebrate his glorious debut in 2010.

So, Pakistani actor-singer Ali Zafar, who played the hero in the first, steps back into the frame for a few minutes, this time with six-pack abs, a strange wig and a weirder item jig. He cackles and plays spoilsport, in an effort to earn the laughs, but the exercise isn't as appealing as what we had witnessed in 2010.

With Ali gone, we are left with Sharma, a man who abandons his jelabi legacy to move from Chandini Chowk to Bollywood to make movies with his discovery Paddhi Singh. The first movie is a hit, but fame eludes them, so the duo decide to kick the superstar out of their sequel. They are just short of starting their new movie when news of Osama Bin Laden's death ruins their plans.

But, their movie plans aren't entirely over, with American intelligence agents and terror groups hiring them to cut videos that propagate their truth. It's here that Abhishek and Neha Sharma pen some sinfully wicked moments that are genuinely funny.

Manish Paul as the enthusiastic Sharma is faultless, but his act is not superlative. His loyal aide Pradhuman Singh pretty much makes up for that drawback with his outstanding, signature Osama act.

Piyush Mishra returns from the first part as a crazy terrorist who manipulates his wig and voice to add madness to the mayhem. When he's not scouting around for suicide bombers through his bizarre Olympics game, he's busy collecting donations for keeping his jihad alive. He's a seasoned actor, who dodges many a screenplay hiccup, but even he falters, reducing himself into a screaming madman.

Sikander Kher, who is often handed supporting roles, finally finds a part where he isn't just a friend to the hero. While he's evidently had a super time, playing the Jim Carrey-inspired US agent who doubles as a strangely hairy Indian film producer with the turn of a mole, there are moments when even he gets the note wrong.

Mid way through the movie, his American agent Junior screams, "We are wasting our time." We can't help but agree.

This time round, it's just not fun.

Watch 'Tere Bin Laden', a second time instead. You'll have more fun, we promise.
Follow Emirates 24|7 on Google News.