Bollywood review: 'Policegiri' shows glimpses of vintage Sanjay Dutt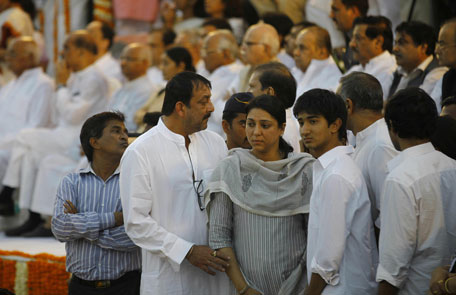 After Salman Khan and Ajay Devgn indulged us in over-the-top superheroic cop movies, the aged Sanjay Dutt steps in to cash in on the mania.
In fact, he even pays ode to his friends with 'Dabangg' and 'Singham' finding numerous references – some funny, some plain dull – through the 145 minute-long screen time.
Armed with the mandatory aviators, a police uniform and a handful of punch-lines, Sanjay apes them earnestly.
Unfortunately, his punch-and-the-baddies-will-fly routines and Munnabhai imitations aren't novel and lacks punch to overturn the movie's obvious ill-fate at the box-office.
Deputy commissioner of police Rudra is a public servant to the true sense. He's a man of immense power, who'd go to any length to serve the people. When he's appointed to small-town Nagapuram, which is terrorized by menacing don Nagori, Rudra, he is determined to clean up the corrupt society by adopting unique strategies.
Some ideas that appear highly illogical but noble on screen. But, this isn't a script that believes in realism. When the top cop flies around without a cape and makes the earth tremble under one massive step, you know what you've bargained for.
Reputed South Indian director K S Ravikumar might've thought borrowing Tamil box-office stunner 'Samy' for his Bollywood debut might guarantee sure-shot success, but his decision to use tacky graphics instead of real action strips 'Policegiri' of any real impact.
The earsplitting crashes, long-haired musclemen and speedy car swirls are in sync with the sensibilities that Rohit Shetty and Abhinav Kashyap have designed and benefitted from, but Ravikumar decides to invest in graphic alteration that just doesn't match up.
Much like his dialogue writer, who pens "buy one get one free" lines highlighting an unusual discount. The writer links Obama and Osama, Mohammed Rafi and Muhammad Ali in the most unlikely and politically incorrect way, evoking a few chuckles. The novelty, however, wears off after the same idea is repeated over and over again.
Sanjay Dutt is undeniably sincere but it's clearly not his age to fly around and prance around with young girls. He deserves a little more dignity and a part that flaunts his strength and not highlight his flaws.
Prakash Raj is equally sincere as the music-loving rogue Nagori, who rises from the streets to playing the notorious PM – politician-maker! He handles the eccentricities and madness with charm, often tipping to exaggeration. Yet, he holds his own. But, it's a talent gone wasted.
Prachi Desai is made to look pretty and dance around, which she does. There are even shades of an idealist, which she attempts. But, with the two senior actors indulging in buffoonery and over-the-top action, she's left with nothing much to do.
Veteran Om Puri also makes a fleeting appearance, but tickles us amply but not enough to make us want to watch this movie.
Take our cue...run, before it's too late.
Follow Emirates 24|7 on Google News.