Bollywood review: Varun Dhawan's 'ABCD2' is strange ode to SRK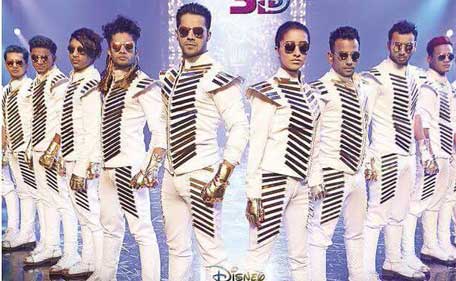 Las Vegas is not just a party city, folks in Bollywood want it rebranded as the hub of dancing championships.
Armed with his dancing shoes, a girl to love, a few buddies, and a drunken teacher, Varun Dhawan is headed to Vegas for the big win.

Apart from the city of the championship, 'ABCD2' strikes great similarities with Shah Rukh Khan and his odd bunch of dancers in 'Happy New Year'.

Just like King Khan, Varun and his bunch are eyeing a dancing championship, are ridiculed and abused for cheating, but are forgiven after they shake their booty abundantly. In fact, they even pump up the patriotism quotient by waving the Indian flag on stage.

It's déjà vu, of a not-so-happy kind.

While director Remo D'Souza flaunts his talent in choreographing some incredible dance numbers, which was a rarity in 'Happy New Year', he's unable to inject passion or logic into his drama.

And that's unfortunate considering 'ABCD2' is inspired by the trials and tribulations of a Mumbai dance group that had soared to great heights despite its humble background.

At 147 minutes of screen time, it's evident Remo struggled to find enough stories to hold the audience in. There's romance, emotional threads, patriotism and even (an unexplained) bloodied medical setback thrown in for the tears. Unfortunately, it's dealt with inadequately, leaving the moments jarring, and puncturing the pace of the narrative substantially.

It's only when the dance takes centrestage that things start to brighten up. Unfortunately, those moments are rare to find.

Had he invested in exploring the life of dancers backstage, and how the process of song selection, costume design and choreography evolves, it would've been incredible. However, we are told time and again in 'ABCD2' that the dancers shouldn't practice so often as it'd lead to injuries.

'ABCD2' (Any Body Can Dance) is about a young bloke who wants to regain his lost glory after his team is eliminated from a telly dance contest over plagiarism. He zeroes in on a Vegas dance contest, and a drunken dance teacher to set the ball rolling.

Varun flaunts his dancing moves and six-pack, but is unable to impress with his acting. His monologues are flat, and plain exaggerated. Even Shraddha Kapoor is weak as his dancing queen. She's worked hard, no doubt, but the weakness is evident with trained dancer Lauren Gottlieb enters the scene.

Prabhu Deva flourishes with his wicked dance moves, but he's capable of much better.

Had Remo focused on the dance, and cut out the rest of the mush, this would've been a great watch.
Follow Emirates 24|7 on Google News.