Bollywood's bad boys: Aamir, SRK and now John Abraham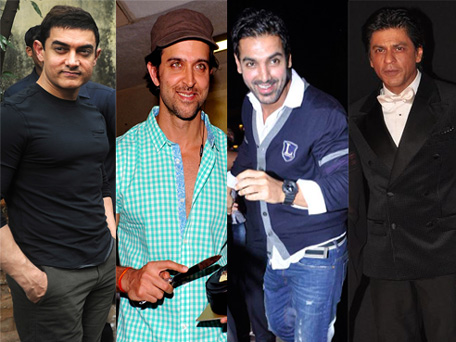 Nearly 40 years ago, when 'Sholay' was facing its first of many crisis – the dramatic exit of Danny Denzongpa and his vision of arch villain Gabbar Singh – director Ramesh Sippy was said to have descended into a cloud of gloom with only a month remaining to commence shooting on what was to become Bollywood's most successful cinematic ventures of all time.
And then walked in Amjad Khan.
In the book, 'Sholay, The Making of a Classic', it is cited that Khan's "lumbering gait, thickset face and curly hair" sealed his fate as Indian cinema's most memorable villains.
His menacing quality and unkempt appearance would go on to create a stereotypical image of Bollywood's ideal on-screen 'bad man', which many have attempted but few have matched Khan's conniving evil that personified Gabbar.
But, as the story goes, passing decades saw the emergence of a new villainous avatar that painted the canvas with its own palette of 50 shades of gray; a bad man, who was evil – deliciously so at that – and looked just as good at delivering his on-screen atrocities.
One only has to sift through the trailer of the currently playing 'Race 2' to decipher John Abraham's menace as the baddie.
When Emirates 24|7 spoke to directors Abbas-Mastan about their choice in casting one of Bollywood's hottest leading heroes as the vengeful Armaan Malik, the former of the brothers said: "This film is all about style and glamour. If we are dressing up our leading man [played by Saif Ali Khan] in Armani suits, why should the villain be any less different; after all, he is almost the second hero in our film."
Abraham, who will also be seen in a shirtless avatar in yet another villainous cinematic outing in 'Shootout at Wadala' releasing in three months, said: "The film will be a turning point for me and the on-screen perception of Bollywood's bad man. People will start saying, it's good to be bad."
Filmmaker Sanjay Gupta, also spoke to reporters at the action-thriller's trailer launch, saying that protagonist Manya Surve, played by Abraham, will emerge as the first shirtless mafia don in Bollywood.
"This is will be the first shirtless don. You will not get to see anyone else like this in Bollywood. No one will be able to compete with him John."
Well, actors Akshay Kumar and Salman Khan are willing to try, who are both expected to slip into their evil best for 'Once Upon a Time in Mumbai 2' and 'Mr India 2', respectively.
Meanwhile, Aamir Khan is now doing what Abraham attempted a few years ago, bursting on to the screen with all the menace, and his trademark style, as the 'Dhoom' franchise's latest villain.
Khan had on previous occasion, been offered by the Yash Raj camp, to step into the shoes of the vulnerable stalker in the 1993 hit film 'Darr'. However, due to creative differences, Shah Rukh Khan stepped into the iconic role of Rahul Mehra, which turned him into a superstar overnight.
Shah Rukh, who is somewhat of a veteran in Hindi films in playing the bad guy on screen, with 'Baazigar' and 'Don 1 & 2', says of his unconventional career choices: "I make even bad look so good, what could be evil in that?"
Indeed.
Follow Emirates 24|7 on Google News.