Bollywood's newest item girl: Catherine Zeta-Jones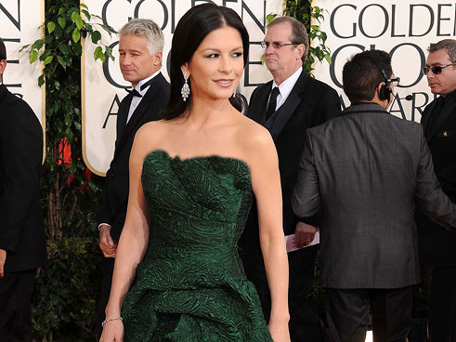 Catherine Zeta-Jones is fascinated about India and all things Indian if recent reports are anything to go by.
First, she could not take her eyes off Indian actress Aishwarya Rai's beauty. Then she started making plans to visit Kumbh mela in northern India. And now, reports have emerged that the 43-year-old actress would love to dance in a Bollywood film.
The Oscar-winning actress has worked in Hollywood musical and she thinks that her prior experience will help her fit into an Indian film easily.
So what got her interested in the first place? A few months back, her actor husband, Michael Douglas met Bollywood actress Aishwarya Rai Bachchan in New York on the occasion of International Peace Day in September 2012, both being UN's brand ambassadors.
Soon thereafter, Aishwarya received a 'beautiful' compliment from Catherine. Catherine told the media that she could not take her eyes off the beauty of Aishwarya who is really beautiful. "Michael recently met Aishwarya. I saw the pictures and she is just as he described her, beautiful," the 43-year-old actor was quoted by Indian daily.
Not long after that, news reports emerged that Catherine wanted to visit India to attend the Kumbh Mela, starting on January 27. In fact, according to some dailies, the Hollywood actress ahs even made plans to visit the banks of river Ganges in search of 'peace and tranquility'. Now, we are not sure how much peace she will get when she descends in India, but we surely hope she makes an anonymous visit or there will be added chaos.
Follow Emirates 24|7 on Google News.