Bollywood's Twitter brigade: Amitabh, Karan Johar, Priyanka Chopra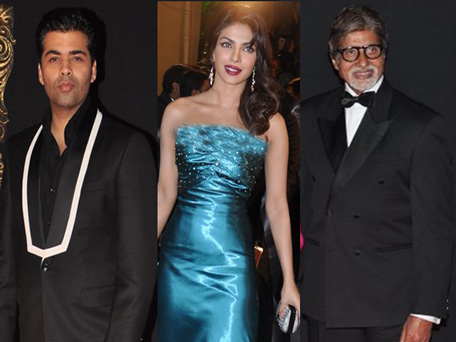 A new trend is slowly evolving in Bollywood, one where actors are tweeting their way to the spotlight.
While many actors would've, initially, refused to open up to the media, for fear of being "misrepresented", they are using the social media to relay their voice, fully knowing that the media would broadcast it for them.
Many Indian journalists complain that approaching a star is a Herculean task, but grabbing their views on twitter isn't.
The stars might claim they aren't interested in speaking up, yet in the virtual world, they seem uninhibited, using their Bollywood clout to influence the public and make their voices heard.
There's the legendary actor Amitabh Bachchan, who is apparently suffering from a love-hate relationship with the media, preferring to flag his own PR machinery via the social media instead.
He'd rather tweet his reactions than talk to the media.Interestingly, he even tweets his displeasure of the intrusive media houses, and often ridicules and criticizes them.
He also uses his spot in the blogosphere to voice his opinions on anything from Indian politics to social issues, to home secrets, to Bollywood.
In fact, many believe that his twitter and blog did generate the initial buzz around his grand-daughter Aaradhya.
Even today, he blogs or tweets about her, and even posts her picture. "Aaradhya turns on the iPad to her favorite nursery rhythms programme all by herself... picks up remotes wherever she can see one and points it to the TV in a pretense to put it on," Amitabh wrote on his blog, which later turn into news items.
Considering the Bachchans' insist on keeping their private lives private, such announcements appear contradictory.
Using the twitter handle "@SrBachchan", the senior actor also keeps a record of his days on twitter. It stands at 1004 days, with 4,360,412 followers.
And, there are some like filmmaker Karan Johar, who tweets to promote his films or his actors, his international travels or certain friendships.
Whenever, there are reports of his fading friendship with Shah Rukh Khan, KJo will quickly post messages that hint everything is OK between the two besties.
"SRK, Gauri and I are one unit," he had tweeted.
At 1,705,808 followers, he does ensure his voice his heard.
Even the big Khans are prolific on twitter. While both Salman Khan and Shah Rukh Khan have established their twitter portfolio, and invest time tweeting, it's Aamir Khan who appears the most reluctant of the lot.
In an earlier interview to this writer, he had accepted his concerns about entering the virtual media, and this when he was a sporadic blogger.
"It's a double-edged sword. It's important to stay connected with your audience but you also have to be aware that the enigma of a star gets diluted. Like the saying: 'Familiarity breeds contempt'," he had admitted.
And, even expressed the reasons for his inconsistent outbursts; "When I'm working I'm absorbed in my work. So, when I feel like expressing, only then I do."
Even John Abraham, in an earlier interview to this writer, had expressed his desire to skip the twitter circuit.
"It's an effective tool to reach out but our fraternity, and I don't mean to sound disrespectful, isn't aware of how to communicate. I wouldn't want my audience to know when I am getting into the bathroom. I'd rather keep my private space private."
The women aren't to be left behind either. Priyanka Chopra and Bipasha Basu ensure even their families make an appearance online along with their personal movie achievements.
Then, there's little-known star-son Tusshar Kapoor, who despite not having a huge fan following is trying rebuild an image on twitter. With 103,001 followers, he's a long way away from making any real impression.
There's also Mallika Sherawat, who is attempting to do the same. She invests a lot of time tweeting her personal pictures, journeys and keeps connected to her fans. Whether she makes any real media impact is still debatable.
In the same pack are actors Neha Dhupia, Uday Chopra and Mandira Bedi, who hope their tweets turn news-items and win them fame.
"It's a publicity tools that most celebs are maximising on. They might appear snotty and extremely busy, to give an interview or reaction piece, but they'll tweet their views instantly," reviews a Mumbai-based entertainment journalist.
"And there are some who aren't exactly popular, but when an event unfolds, they'll quickly tweet because they know it will be picked up."
It's also an easy ground for celebs to come clean on their rumoured affairs and even take potshots at nagging peers.
Earlier, when reports of Uday Chopra and Nargis Fakhri's alleged romance was aired on the national media, the two tweeted "they were just friends".
While Bollywood continues to play hide-and-seek with the media, emerging most often when their movies are ready to hit the theatres, they are often ready to spill the beans on twitter.
Ah, the irony!
Follow Emirates 24|7 on Google News.