Bollywood's unsung heroes: Khans making way for 'real' actors?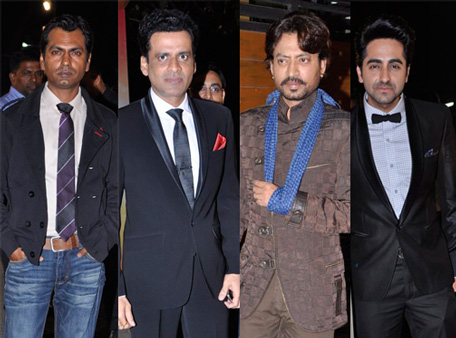 Back in 2006, one of India's biggest production houses took a remarkable risk on a small-budget film that saw Anupam Kher as one of the few recognisable names in its opening credits.
'Khosla Ka Ghosla' emerged as the sleeper hit of the year, with UTV Motion Pictures laughing all the way to the bank with its bulging bounty from a film that was made on a shoe-string budget (by Bollywood standards at least) of a measly Rs20 million.
The satire, directed by debutante Dibakar Banerjee, went on to win India's highest cinematic honour, the National Film Award for Best Feature Film in Hindi.
'Khosla's' commercial draw, even in the overseas market, proved a game changer in Bollywood's pedigree of star sons and daughters ruling the popularity charts.
Fast forward six years later, and Bollywood's maturity was clearly reflected in 2012's choices of cinematic fare, with films such as 'Paan Singh Tomar', 'Gangs of Wasseypur' and 'Vicky Donor' leading the nominations category this awards season.
What was once considered indie cinema was now competing in the commercial category, with actors such as Irfaan Khan, Aysuhmann Khurana and Nawazuddin Siddique overthrowing even the three Khans of Bollywood in their nominations tally.
So what ultimately made this virtually unknown film, with no A-listers hit all the right buttons with cinemagoers?
Film director Mira Nair said earlier: "Small and big doesn't really matter, it's the overall concept of your film that is the key to success.
She adds: "The taste of the audience is altering, but now it's time for the major producers to stop chasing the formula-based films with recognisable stars to fill up the seats."
Actor John Abraham, who produced the 2012 comedy, 'Vicky Donor' said: "For me the film was not about selling the right face, but backing the right script. Ayshumann fitted that mould perfectly and the success of 'Vicky Donor' is proof I made the right choice."
Filmmaker Anurag Kashyap has been among the few directors who has helmed the new age cinema movement, daring to push the envelope and deviate from the conventional stereotypes.
"I think it has been a great change in the Indian film Industry, with the sort of content being explored. This allows for a whole lot of newer actors to be able to showcase their skills. It's a great time for our industry," he explained.
His unconventional casting in 'Gangs of Wasseypur 2' with Siddique is a case in example.
"Nawaz is a brilliant actor. If you see the film, you will realise that he fits into the mould of the character to perfection. Looking back, I think it might be very difficult for anyone else to have essayed the role. I think filmmakers will always cast based on what is right for the film, I don't think it can be any other way around," Kashyap added. "If you are good you will be recognised. It is true for all other fields too, this one is no different."
Siddique, who also shone in last year's 'Talaash', was recently even quoted in the media as saying he has 104 film offers in hand, while making a fan in actress Deepika Padukone.
"He is simply brilliant," she gushed. "Isn't it fabulous that today we are working in a decade in Bollywood where stars are not bigger than the film? Nawazuddin in 'Gangs' and Ayshumann in 'Vicky Donor' is proof enough that there is no such thing as a 'real hero' stereotypical concept in Indian cinema. Script is king, while actors are the real stars."
Noted filmmaker Mahesh Bhatt refuses to accept that there has been any real change in movie castings, and insists that there were many heroes in the past who banked on talent and not looks.
"Amitabh Bachchan and Ajay Devgn were unconventional looking heroes, yet they were hugely successful," he stressed.
He does, however, admit that the Indian film industry has become more inclusive now.
Saif Ali Khan, who has the conventional features to make it in Bollywood's mass hysteria, tends to agree.
"Of course, glamour sells, but cinema with no sensibility can only work for so long," he explained. "Take my example; my unconventional roles such as that of Langda Tyagi in 'Omakara' is one of my most lauded and not films like 'Agent Vinod' or 'Race', where I wore designer suits and carried off that conventional look that Bollywood markets."
Quiz him about the star power demanded by the Khans of Bollywood and the actor doesn't deny it either.
"Look, why should we box cinema and only allow one set of actors to take home a slice of pie? I think there is space for all sorts of actors to make a mark in Indian films. If you are good, you will succeed," he added.
With inputs from Sneha May Francis
Follow Emirates 24|7 on Google News.