Bollywood review: All Is (not) Well with Bachchan starrer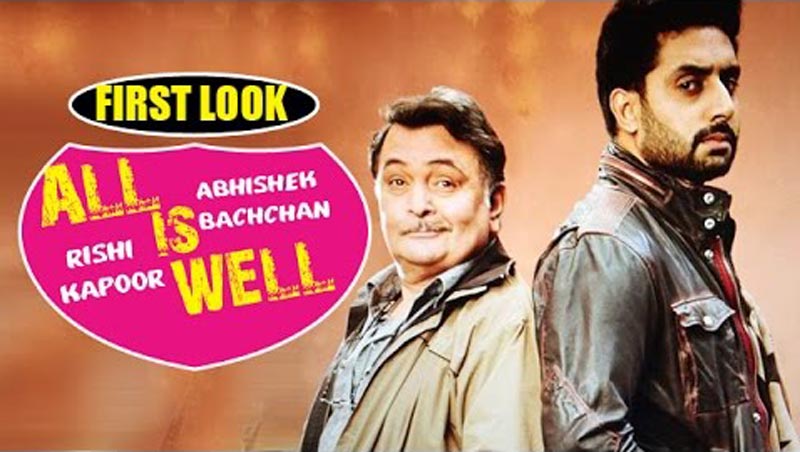 Abhishek Bachchan's acting talent cannot be denied.

Before you start judging, think back to his brilliance in films such as 'Yuva' or 'Guru'. The actor showed a spark in the early years of his career that has all but snuffed out with the mediocrity of work, coupled with a unique ability to select non-starter solo projects.

Why else would an actor of his calibre star in a movie where all is not well from its dialogues to its haphazard direction?

This Bhushan Kumar and Shyam Bajaj produced comedy of errors was a mistake to back from the early stages of its script. To finance this film and bring it to big screen is a fool's exercise that will probably not end well for anyone associated with such a project.

Five minutes into 'All is Well' and audiences are taken down a backstory of a traumatic childhood of Inder Bhalla (Bachchan), who escapes an abusive father (Rishi Kapoor) and moves to Bangkok to pursue his dreams of becoming a singer. Kapoor is the debt-ridden Bhajanlal Bhalla, running a loss-making bakery in Kasol and finds pleasure in blaming his wife Pammi (Supriya Pathak) for all the problems in his life.

However, cash-strapped himself, a bitter Inder returns to Kasol a decade later when an opportunity arises to make some fast cash by selling his father's bakery.

Along the way, audiences are introduced to a sub-plot of his failed romance with Nimmi (Asin), due to an aversion to commitment following his parents' own failed marriage.

Fast forward 20 minutes and director Umesh Shukla decides to throw in some bumbling goons chasing Bhalla for a repayment of loan, along with some equally foolish cops adding colour to the mix. Throw in two item songs en route, a runaway bride and some family melodrama and audiences unspool a potent Bollywood pot-boiler that spills into the realm of ludicrousness.

Such ingredients, if cooked well, can result in a gastronomic delight; however, Shukla's filmmaking talents can only result in a recipe for disaster.

The book of logic is chucked out the window and replaced with 'The Secret' that miraculously appears and disappears even as Nimmi is kidnapped from her own wedding function. Why is it even there, one never really understands. For that matter, why was she even in Bangkok, the makers don't deem it important enough to explain.

Continuity goes out the door, with the book, with Bachchan's costume changing every few minutes in some key scenes. The man is at a funeral, shouldering someone's body, when two frames later, a designer scarf appears around his neck, only to disappear one frame later in the same scene.

Audiences are also shown the urgency of the situation with bad guy Chima (Mohammed Zeeshan Ayub Khan) hot on the heels of this fugitive family, yet Bachchan finds time to shake a leg with Sonakshi Sinha for an item song, then again at Nimmi's wedding.

If this isn't enough to leave audiences reeling, Pammi, who is suffering from Alzheimer, makes a miraculous recovery in the second half of the film. Clearly, the makers have found some miracle cure to the illness that could mint them money to recoup the losses this film is bound to make.

The talented Pathak is wasted in 'All is Well', while Asin is just another pretty face to fill in the heroine's shoes.

Meanwhile, Kapoor and Bachchan outdo each other in who can scream the loudest for the cameras. While the former appears to genuinely make an effort at acting, the latter sleepwalks through the film.
The only saving grace, if any, is Khan's Chima, who appears to show some semblance in the acting department.

The '90s humour is as tired and hackneyed as this entire enterprise.

Take our advice and the money spent on this weekend's movie outing is perhaps best spent on charity instead. Believe us, you will be doing yourself a favour.



Follow Emirates 24|7 on Google News.