Bollywood Buzz: Salman snubs Hrithik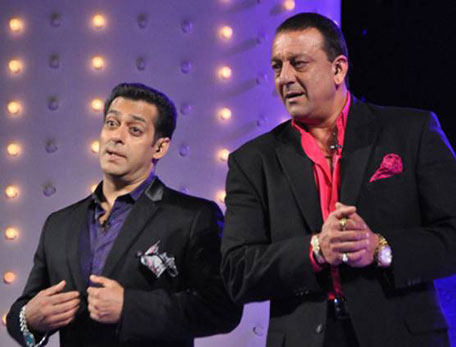 Salman Khan's drama spinning show 'Bigg Boss season 5' has been a potential platform for the Bollywood stars to promote their respective films.
But when it comes on deciding as to who will appear on the show Salman seems to be bossing around at the Bigg Boss house.
Stars who are in close camaraderie with Salman Khan gets an opportunity to promote their flicks on that platform.
The off-screen not-so-good equations between Salman-Hrithik is still on and this was yet again proved when Salman picked his friend Aamir Khan's nephew Imran Khan over his arch rival Shah Rukh Khan's best friend Hrithik Roshan.
It is reported that despite the so called patch up between Salman and Hrithik, there is still some sourness left between the two after the infamous verbal spat over Sanjay Leela Bhansali's 'Guzaarish'.
Apparently producer Karan Johar of both Hrithik starrer 'Agneepath' and Imran starrer 'Ek Main Aur Ekk Tu' was vying to promote the films on the finale of Bigg Boss season 5. However when Salman gets to know about the deal, he immediately shunned the aspect of Hrithik coming on show and chose Imran.
Hrithik's plans got spoilt due to Sallu being the main boss of the reality show.
Mumbai Mirror reports that producer Karan Johar, main villain Sanjay Dutt remains a constant.
Vidya escaped New Zealand quake
Bollywood actress Vidya Balan. (AFP)
Vidya Balan and her beau Siddharth Roy Kapur were apparently vacationing in New Zealand last week and had left in time before the earthquake.
The couple was in Christchurch a few hours before an earthquake hit the country's largest city on December 23, 2011.
Sources close to the couple revealed that when they landed at Christchurch, their decision to travel to Queenstown instead kept them from harm's way.
The first quake in Christchurch measured 5.8 on the Richter scale and the second tremor came 80 minutes later and measured 5.3.
Both Vidya and Siddharth, also their families back home were relieved to know that they were safe and had left Christchurch in time.
Despite the earthquake scare, they had a good holiday and returned to Mumbai on December 30, 2011, reports Mumbai Mirror.
In the past, Salman and Katrina too, came close to witnessing the natural catastrophe, when they were shooting for 'Ek Tha Tiger' in Turkey. Incidentally, Salman had flown to Mumbai for two days to shoot Bigg Boss 5 and Katrina was not in the vicinity hit by the earthquake.
Pooja Bedi asked not to attend Bigg Boss finale
Pooja Bedi with Hanif Hilal. (FILE)
Bigg Boss season 5 has reached in its final week and channel is leaving no stone unturned to make it a huge success.
All the eliminated members have been asked to perform on the big day, but according to sources, Pooja Bedi and Pooja Misrra are kept away from the show.
According to India Today, the production house has asked the two ladies to stay away from the finale and their performances also stand cancelled. Previously, both were supposed to perform on a medley of songs, but now that is cancelled."
This sudden change was done by the channel as both of them have spoken against the show and its contestants.
After this decision of the production house, both women came together and spoke to each other very amicably. Later, when they asked for an explanation from the production house, they were directed towards their legal advisors.
Expressing her anger on this whole episode, Pooja Misrra tweeted, "Gagging sum1 4rom expressn demselves is called dictatorship! Incidentally we live in a democracy! Jai Ho!(sic)".
Pooja Bedi also tweeted, "Have asked channel 2 state reason I cannot b there at finale to cheer my friends on! Also, till yesterday I was 2 do a medley! What changed?"
Shahid-Priyanka shoot for their next
Priyanka Chopra and Shahid Kapoor (FILE)
Shahid Kapoor and Priyanka Chopra are shooting for the last schedule of their Kunal Kohli flick in Aurangabad.
Kunal Kohli's film, tentatively titled 'Teri Meri Kahaani' will see the two stars come together after their hit 'Kaminey'.
Shahid tweeted about the shoot saying, "Last schedule for the film underway .... Will wrap it in 4 days ....... Been quite a journey ......... Its out june 22nd".
Priyanka who was away for the year-end celebrations joined the unit yesterday.
Priyanka Chopra plays an upcoming actress and Shahid Kapoor plays a struggling music composer from the 1960s in 'Teri Meri Kahaani'.
But unlike most filmmakers who highlight an actress's dilemmas in movies about life in showbiz, Kohli says Priyanka and Shahid's character are happy soul.
They do not have an unhappy space in the script.
ALSO READ:
Follow Emirates 24|7 on Google News.