Buzz: Katrina Kaif to star opposite Rajinikanth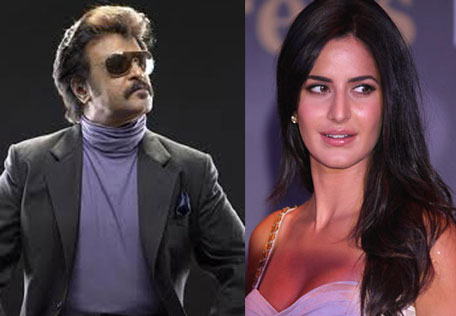 Katrina Kaif has really made it to the big league. The actress who has worked with all the Khan's in Bollywood now steps forward to star opposite the biggest star in Indian film industry- Rajinikanth.
Katrina will feature opposite him in a film called 'Kochadaiyaan'.
The project will be directed by none other than Soundarya, Rajini's daughter. Sources reveal that the entire team was very keen on Katrina.
They are positive that the two superstars, one from South India and the other from North India, will together create magic.
The schedules and date are being adjusted and negotiated.
Katrina is currently busy shooting for Yashraj production along with Shah Rukh Khan but has assured to do this film and give her dates, as reported by Mumbai Mirror.
In 'Kochadaiyaan', Rajinikanth plays a king, a devotee of Lord Shiva. His love story with Katrina, their songs, will be shot on an epic scale. Some parts of the films have already been shot.
A R Rahman will be composing the music for the film and has got 130 musicians from Germany to record the background score.
The first look of 'Kochadaiyaan' will be unveiled in the third week of January. Rajinikanth will sport long flowing tresses for the part.
Well, it's time to wait and watch if Katrina will do justice to the role and make maximum use of it.
Hrithik Roshan celebrates his birthday today
Hrithik Roshan with sons Hrehaan and Hridhaan in Dubai. (AGENCY)
Hrithik Roshan is celebrating his 38th birthday. Easily among the best-looking of Bollywood's current crop of A-list actors, Hrithik Roshan is all set to begin 2012 on a high note, playing the lead in the much-awaited remake of Amitabh Bachchan's 1990 classic, Agneepath.
There's something about Bollywood actor Hrithik Roshan and parties. The actor has developed a distaste for them of late. He turns 38 today, but the last thing Hrithik wants to do, is throw a party for that.
Though he's not throwing a party on his birthday, Hrithik has been shuttling between attending some birthday parties- filmmakers Farah Khan and Farhan Akhtar.
According to India Today, Hrithik wants to settle down at home and have some fun time with the boys (sons Hrehaan and Hridhaan). Rather than partying he would like to play with them the whole day.
Hrithik plans to take the day off, but it's strictly to be with family.
Here's wishing this family man a very happy birthday.

Arbaaz and Anurag are friends again
Arbaaz Khan and Anurag Kashyap at Farhan Akhtar's birthday party. (Twitter page)
Arbaaz Khan and Anurag Kashyap, who locked horns on Twitter last year, cleared their misunderstandings at Farhan Akhtar's surprise birthday party in Mumbai.
"Met Anurag Kashyap at Farhan's party after his Twitter outburst. Had a long chat. All izz well now," Arbaaz tweeted Monday. The party took place on Sunday midnight.
Arbaz also posted a picture of the two of them in a side-hug pose with each other, displaying happy times.
The Twitter war between the two filmmakers began after it was announced that Arbaaz will direct the sequel of 2010 blockbuster 'Dabangg', helmed by Anurag's brother, Abhinav.
According to reports, Anurag had felt Abhinav was asked to leave the project. So in anger, he posted negative comments about Khan brothers - Arbaaz and Salman. What followed was an exchange of bitter retaliation.
Once Anurag learnt that Abhinav had opted out of 'Dabangg 2' himself, peace prevailed. But it is only now that Anurag and Arbaaz have buried the hatchet.
'Dabangg 2' features Salman Khan, Sonakshi Sinha, and southern star Prakash Raj as the main villain. The film will release towards the end of 2012.
Jacqueline attends Farah's birthday dinner
Jacqueline Fernandez. (GETTY)
It seems all is well between Jacqueline Fernandez and Sajid Khan.
Jacqueline was part of the group who attended Farah Khan's birthday dinner.
It was supposed to be dinner for only close family members.
Out of nine attendees Jaqueline was the only outsider to attend the dinner on Monday evening, leaving no doubts about her association with Farah's brother Sajid.
Mumbai Mirror reported that Jacqueline is referred by Sajid's family as 'Jacky Bhabhi' (sister-in-law).
Reportedly Jacqueline didn't want to take Sajid's instructions on how she would be managing her professional life.
There was a disagreement between her and Sajid regarding how she would be conducting her career. While Sajid felt that she should be concentrating on being a serious actress, Jaqueline wanted to continue being the oomph factor in a film.
But Jackie's presence in Farah's party settles all rumour surrounding the couple.
Follow Emirates 24|7 on Google News.