Salman, Shah Rukh and Kareena rake in moolah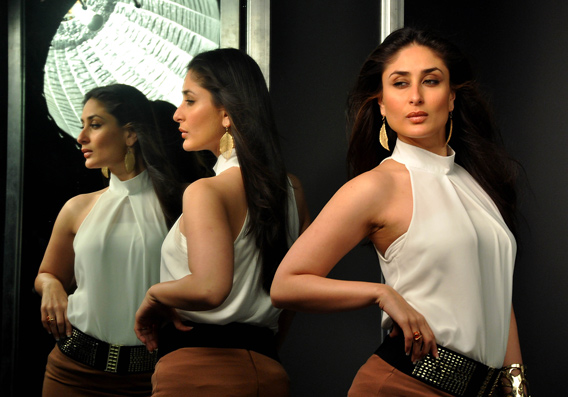 Salman Khan and Shah Rukh seem to be inseparable in friendship and in war.
The two most popular Bollywood heroes have been named the most profitable actors of the Hindi film industry in India and abroad by ETC Bollywood Business Awards.
Kareena Kapoor, who featured in 'Bodyguard' and 'RA.One' in 2011 opposite the two actors, has been titled the most profitable actor in the female category.
Expressing her emotions on being named most profitable actress, Kareena said she felt a sense of pride. She stated that commercial success of a film is as important as the critical success of a movie. A commercially successful movie pays evidence to the fact that viewers loved watching the movie.
Salman's 'Bodyguard', the Hindi remake of the Malayalam film by the same name, was titled the top grosser of the year. The film's director Siddique, walked away with the most profitable director's trophy.
Whereas SRK's mega-budget dream project 'RA.One' was recognised as the best marketed film of the year and also bagged an award under the highest single day collection category, as reported by Mid-Day.
Other films like 'Pyaar Ka Panchnaama', 'The Dirty Picture', 'Don 2:The King Is Back' and 'Mission Impossible: Ghost Protocol' bagged awards for being the most successful small budget Film, ETC Box Office surprise of the year, most popular first look of a film and most successful foreign film respectively.

Bipasha Basu & Koena Mitra celebrate big day
Indian Bollywood actress Bipasha Basu poses during a promotional shoot in Mumbai on December 24, 2011. (AFP)
Bollywood babes Bipasha Basu and Koena Mitra, besides sharing a Bong connection, share their birth date too.
Yes, it's the'Bengali babes' birthday today! The dusky beauties have turned a year older on January 7, 2012.
According to reports, Bipasha celebrated her birthday at home with her family and some close friends. She also planned to a host a special screening of 'PLAYERS' for them.
Bipasha enjoyed her big day to the core. Her friends have been showering her with pleasant surprises and the latest to add to the list is her birthday cake.
Bipasha's cake was decorated with a cream doll, a look alike of Bipasha, clad in her gym attire. The birthday cake also had a plate loaded with fish.
"My cake ws hilarious!Apparently this is how I look!Thanks @deannepanday !ha ha ha! (sic)", wrote Bipasha on Twitter.
Koena Mitra is also back in India, after completing the second schedule of her Hollywood film 'Dark Romance', to celebrate her birthday.
She planned to throw a party for her close friends.

Akshay injured in the line of work
Indian Bollywood actor Akshay Kumar leaps into the air following the filming of an action sequence on location at Filmcity in Mumbai. (AFP)
Akshay Kumar's shoot schedules for Prabhu Devaa's 'Rowdy Rathore' have been rather jinxed.
Earlier Akshay Kumar had come down with fever after shooting for an action scene in heavy rain for two consecutive days. And now we hear that the actor, who has been filming at the same location - an under construction site in Mulund - injured his shoulder while shooting for the film's pre-climax scene.
A friend of the actor revealed that despite being hurt, Akshay completed the shoot. He only became aware of the intensity of the injury later. According to his friend, the actor has been advised complete rest and as a result, the film's shoot has been postponed.

The injury was so serious that he had to return earlier than scheduled from Goa. After he threw a birthday bash for his father-in-law and actor Rajesh Khanna on December 28, Akshay decided against staying back for New Year and left the very next day.
According to Indian Express, the shoot of 'Rowdy Rathore' was initially scheduled to resume on January 3, 2012 in Bangalore. However, due to Akshay's condition the shoot has now been postponed to January 11.

Since Akshay has to shoot the climax scene, which demands heavy duty action sequences, he wanted to give his shoulder time to heal before he resumes work.
Follow Emirates 24|7 on Google News.