'Katrina has not troubled us'; Ranbir Kapoor spills all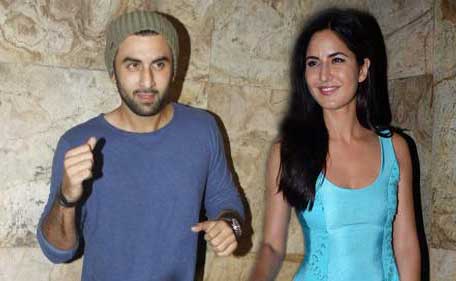 Ranbir Kapoor finally wrapped the shooting of his film Jagga Jasoos. April 10 was the last day of the shoot and the Kapoor kid was happy that his first production was over.
"We just completed the shoot on Monday and it was a very historical day for me as it is my debut as a film producer. I am very excited about the film.
We have fixed the release date of July 14 and I am hoping that I get a lot of support from the media and a lot of love from the audiences as well.
The actor producer however denies that former flame Katrina Kaif has troubled the makers and will very much be a part of the promotional process.
"Not at all. Katrina has worked very hard on the film. It is as much her film too as it is mine.
We will promote and release the film in the best manner possible.
When we make a film, we make it with a lot of passion, love and hard work and we want to put it across in the best way possible," wishes the actor.
Currently, Kapoor is filming his first biopic as an actor and that is rajkumar Hirani's film on the life and times of controversial Bollywood star Sanjay Dutt.
"I have been working on the Sanjay Dutt biopic. The film has had a lot of work. We have completed around 60 per cent of the film as yet.
I have not had any film releases and hence I have shied away from public appearances.
Plus I have been busy with this film and we have around 40 percent to go," he says.
Having said that, Kapooor says that he enjoys being himself. "I want to be Ranbir Kapoor. I can't be Sanju Baba ever even if I try.
I am having fun to be a part of his life and his work. To work with Hirani has been great," he guffaws.
So have there been any changes in him after having played Sanjay Dutt? "I cannot say anything now. But, I can surely tell you that if there are any changes it will happen around two three months after release to see if there are any changes mentally in me.
I will only know then if something has stayed back in me from the film and if anything went out of my system.
Having said that I am currently enjoying working on the film," adds the Kapoor scion.
Kapoor was also named as the Maharashtrian actor of the year by leading media group Lokmat Publications and he was pretty happy to have been awarded the prize. "My entire family has been working in films for years. Whatever they are and whatever I am till today is because of Mumbai and Maharashtra and I am really happy to have been accorded this honour," says Kapoor.
Follow Emirates 24|7 on Google News.