Nana Patekar's 'Ab Tak Chappan2' is a forgettable mess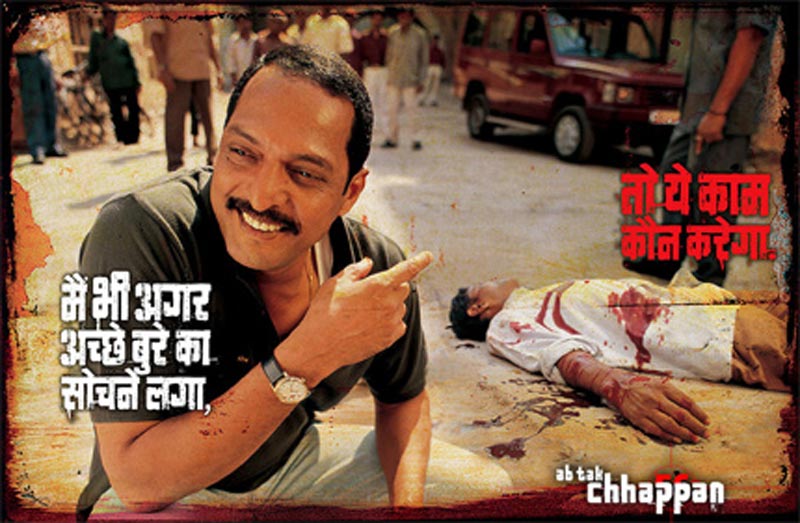 Sequels rarely turn out as good as the original. And 'Ab Tak Chappan2' fits that theory.

It forces encounter specialist Sadhu Agashe's return to the 'force' fizzle and fumble into a worthless second part.

Debutant director Aejaz Gulab tries desperately to win us over with a storyline packed with innumerable thrills but each so predictable that you end up preempting a conflict even before he uncovers it on screen.

Nilesh Girkar's story might have succeeded in getting the aged super cop to step back on the battlefield, but he throws him an unworthy fight.

He even pens many blood-spurting action sequences and makes the men flash their guns and hysterically pump bullets into each other, but the purpose appears superficial and manipulative.

In 'Ab Tak Chappan 2', we are introduced to a rather subdued Sadhu, leading an obscure but content life with his son in Goa. Disappointed with the system and scarred by his wife's death, he refuses the offer to return to duty. But, it is his son, who convinces him otherwise.

Without losing much time, Sadhu is back in the game, reconnecting with old contacts, and chatting up with the gangsters just like the old days. There's little background on these new relations, and little prep on his part. But, it's all good, because we are told 'once a cop… always a cop.'

The part where he cheekily chats with the gangster and urges him to help crack a computer crisis hints at his unique equation with his detractors, a trait explored intensely in the original. Unfortunately, the moment is hastily written, and appears forced here.

The encounters begin, and three men are knocked down in cold blood. Names on the hit-list are announced abruptly, and it's tough to comprehend the links without any background.

Nana Patekar lends his rustic charm as the menacing supercop and initiates the "clean-up" drive earnestly, but the lack of a convincing plot turns the entire exercise into a forgettable mess.

Ashutosh Rana enters as his insecure subordinate, and distracts him immensely with his need to steal the spotlight. It's unfortunate that he's left to indulge in fun banter, but never allowed to flex his acting chops. Even seasoned actors like Vikram Gokhale, Raj Zutshi, Mohan Agashe and Govind Namdev aren't utilized to their optimum. There is also Gul Panag who slips behind geeky glasses to lend authenticity and grit to a crime reporter.

Eleven years after director Shimit Amin created the magnanimous encounter specialist Sadhu, Gulab crushes him with an unfitting comeback.

Follow Emirates 24|7 on Google News.