Sonakshi not performing with Justin Bieber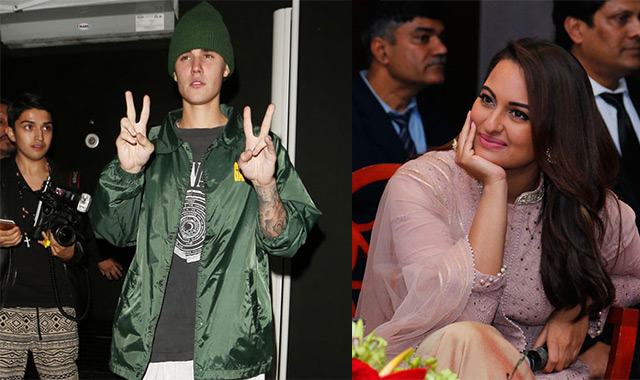 A few days ago, Sonakshi while promoting her recently released film Noor did confirm that she was in talks with the organisers of the Justin Beiber Tour concert in India to perform with Bieber on stage. "We are in talks, but there is nothing confirmed as yet," she categorically stated denying that there was a certainty.
However a few media publications and websites did mention that she would definitely be performing on state on May 10 at DY Patil Stadium, Mumbai.
There was an uproar because singers like Kailash Kher took objection to singing actors like Sonakshi perfoming with Beiber when there were good and better singers available in India.
And now in a press statement issued by her publicist, Sonakshi has clarified that she is not perfoming with the Canadian singer.
"Firstly, I am not performing at the Bieber concert. It was speculated because I was approached and carried forward by publications and portals even after I stated in various interviews that it's not happening. Secondly, I am an actor who loves music, who loves to perform and who loves to sing. And if anyone has a problem with that, in the wise words of baba Bieber himself... they can go "love" themselves. Over and out," reads the statement.
Now we await all those who objected to her being on stage to say 'Sorry!' or 'Never Say Never.'
Follow Emirates 24|7 on Google News.