Can Hrithik steal Amitabh Bachchan's thunder in 'Agneepath'?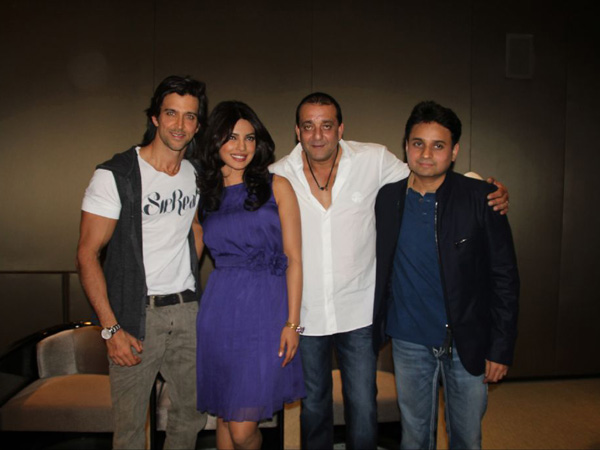 The media hype and the promotional blitzkrieg has reached its crescendo as the highly anticipated "Agneepath" releases across the UAE cinemas today, amidst much fanfare, fervour and gossip, all courtesy of the A-list celebs that headline this Bollywood potboiler.
While Sanjay Dutt is in the news for his quotable quotes for forbidding his daughter Trishala to join the big bad world of Bollywood, leading lady Priyanka Chopra has been flirting with the homewrecker tag as she cosies up to the much married Shah Rukh Khan.
Amidst this mutual gossip society, the one that was left out in the cold was "Agneepath" leading man, Hrithik Roshan; but that equation too has changed now with the actor finding lots to talk about, including the one issue that he has all but avoided fuelling the fire for – his long running feud with actor Salman Khan.
In an interview with Hindustan Times, Roshan finally broke his silence on the war of words that ensued last year when Khan had made some derogatory remarks over his film, "Guzaarish", saying: "I was wrong there. Instead of choosing a public platform to retaliate, I should have picked up the phone and spoken to him (Salman) directly."
He added: "Sometimes, you tend to say things in the heat of the moment but all that passes. I am not in the business of having fights."
But when chatting in Dubai with the media, Roshan practiced being politically correct, preferring to focus his energies on the movie at hand, saying: "My heart is palpitating in overdrive since its hit me that "Agneepath" is about to release. There is so much nervousness and anxiety. But I think it's justified."
Justified? Possibly, considering Roshan has big shoes to fill, ones that were once worn by the legendary Amitabh Bachchan in the 1990 version of the same film.
Quiz the younger actor and he doesn't deny that comparisons are inevitable, saying: "Like some members of the audience, even I was completely against remaking a classic like "Agneepath". I mean, why should we destroy the sanctity of something so great?
"But when I heard the narration by director, Karan Malhotra, I immediately knew I had to a part of this film; it just blew me away.
"As for comparisons with Mr Bachchan, he has offered a lifetime of inspiration for me."
Many were vary initially of Roshan's ability to perform such a powerful role of the protagonist, Vijay Dinanath Chauhan, including co-star Chopra, but the actor was not perturbed.
"As an artist, it is my job and duty to explore the creative arts. People thought with my youth and my looks and colouring, I may not look the part of a slum boy.
"But they forget that acting is an integral feature that we actors rely on. People had also said the same about me for "Koi Mil Gaya" (where Roshan plays a mentally challenged man) and look how that turned out."
The 38-year-old, however, does admit that "Agneepath" has been his toughest role so far.
"What was different in this film is that it is not just your basic premise of a hero versus a villain, but the Vijay vs Kaancha Cheena (played by Dutt) has taken on an equation that is similar to the biblical story of David versus Goliath."
Explaining the intensity of the climax shoot, Roshan said: "We filmed the climax over 18 days, where Vijay is left for dead in a torn shirt and being dragged and beaten blue by Kancha.
"That fighting was real, and it felt like taking on Goliath. It finally reached a point when Sanjay refused to hit me. It is all real and people will sense that on the screen."
Follow Emirates 24|7 on Google News.