Charmer Shah Rukh Khan flexing muscles to impress Deepika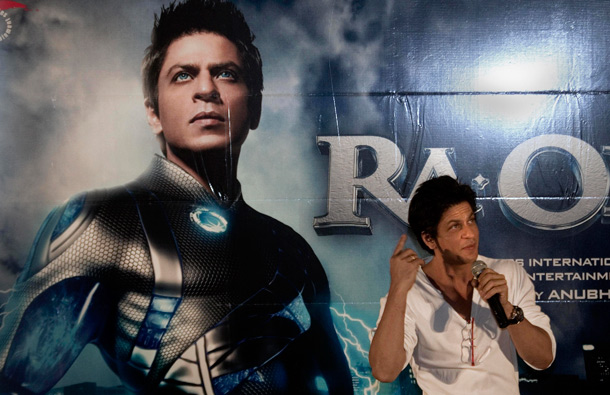 We saw Bollywood star Shah Rukh Khan flex his muscles in 'Ra.One', display his chiseled six-pack in 'Om Shanti Om', now he is training hard to get that perfect physic for 'Chennai Express'.
Shah Rukh Khan will now get into what is called TRX training. TRX training is a form of suspension training developed by a former Navy Seal Randy Hetric.
Shah Rukh is being taught TRX by his trainers Prashant and Rohan Sawant.
Khan's body is being trained differently and is being seasoned to withstand more pressures and pain during the heavy action driven Rohit Shetty fight sequence.
TRX is far more complicated and tougher than normal weight training procedures and will ensure SRK can go through more rigorous session.
SRK's action in his forthcoming film 'Chennai Express' is going to be very different than what it was earlier even in films like 'Ra.One' and both the editions of 'Don' where he played the action guy.
In the meantime the first schedule of the Rohit Shetty film has been wrapped up at the Yash Raj Studios and Rohit Shetty's team have loved the way the film has been shot and shaped up.
But what everyone is raving about is the effort that SRK has put into the movie. "It is not just about Shah Rukh's energy. It is also about his efforts at trying to do his best ever. And it also does look like Rohit Shetty too is working on his best movie ever after films like 'Singham' and 'Zameen'," says a source from the film.
SRK did work out a magical body earlier called the six pack body for the 'Dard E Disco' song in the film 'Om Shanti Om' with the same trainers and got the world excited.
Wonder what all can he manages this time around!
'Chennai Express' has Deepika Padukone starring opposite Shah Rukh Khan and is about a man's travel from Mumbai to Rameswaram and what happens during the journey.
MUST READ:
Katrina Kaif or Aishwarya Rai: Which Bollywood beauty is best 'item girl'?
Keeping the war alive: Shah Rukh Khan takes a dig at Ajay Devgn
Follow Emirates 24|7 on Google News.