Did Aishwarya leave Beti B for a cover shoot?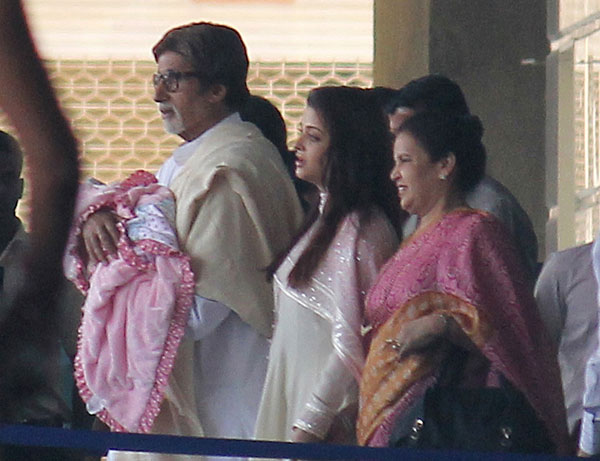 The January edition of Elegant Living magazine, has none other than Aishwarya Rai on its cover. The edition of the a US-based lifestyle publication is being touted as a special Indian edition.

So, did Aishwarya Rai Bachchan really tear herself off from her darling 2-month old daughter to shoot for the magazine's cover, asks Celebs.gather.com?
Fact or not, the news spread like wildfire on the net over the weekend.

The web has been abuzz with speculation that she might have posed for the cover after the birth of her daughter or she might have done the shoot while she was pregnant last year. However, those speculations are just that. For, Aishwarya looks quite slim and trim unlike her real-life image in recent years.

A quick search of the photo on the internet reveals the same image on various websites. In the image, Aishwarya is wearing a white suit and a hat with feathers. Elegant Living probably put Ash's face on the cover as a marketing gimmick and get her fans to buy a copy of the magazine in the hope that it contains the latest pics of the Bachchan daughter-in-law and her 'Bitiya', as Amitabh Bachchan refers to his grand daughter.

Now, it is no secret that entire India and the Bachchan clan's fans globally are dying to get a glimpse of Beti B , know her name and generally get an idea on what is going on in the Bachchan household in Mumbai's Juhu and what is delaying the formal naming of the baby.
The magazine obviously tries to cash-in on the hype surrounding the Bachchan family, criticises the website.

It's mum all the way for Aishwarya Rai and 'Beti B'

The fact is that far from rushing off for a shoot and leaving her daughter behind at the mercy of a care giver, Aishwarya Rai is actually looking after her two-month-old daughter all by herself. She has refused to keep a nanny and is looking after all her daughter's needs, which include feeding, bathing and even massaging the little one, proud hubby Abhishek Bachchan revealed recently.

Of course, Bollywood's first family's other members are there to entertain her. Ash is expected to take a long time off from work and is enjoying her turn at motherhood.

Aishwarya has also been keeping away from the social circuit to concentrate on her daughter. Her fans got a rare peek when Ash and the rest of the Bachchan clan drove out of their Juhu residence with Oprah Winfrey in tow, to attend a party thrown in her honour.
Abhishek also told the Indian magazine Filmfare during his interview that Ash is enjoying the bonding time with her baby and loves doing little things for their daughter. Lucky 'Beti B'!


Follow Emirates 24|7 on Google News.