Kareena Kapoor, Imran Khan dazzle Dubai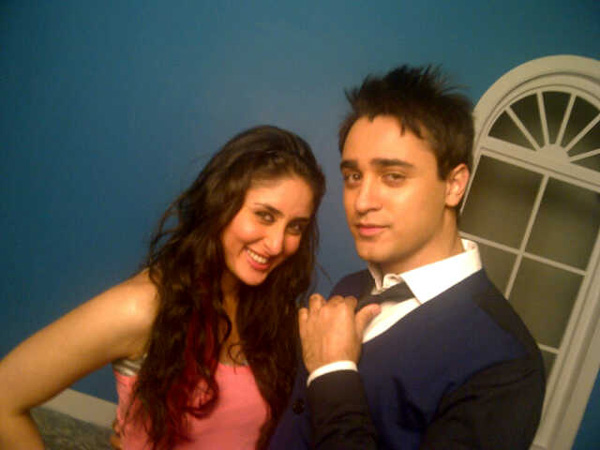 Running only an hour late, which is a boon according to Bollywood standards, the latest celebrity duo to jet into Dubai for another promotional media event on Saturday were the lead stars of the upcoming Valentine release, "Ek Main Aur Ekk Tu".
Looking dapper with his newly sprouted beard, the young Imran Khan, along with co-star Kareena Kapoor ­ - who struck a pose in a stunning black Burberry dress - kept up the easy-going camaraderie on high volume to match the chemistry that can be seen in the promos of their film.
"Wow, I'm watching the promos of our film again after maybe a month and it all just looks so refreshing," gushed Kapoor.
"The character I play in "EMAET" is one that I haven't played in a while. In my recent films, such as "Bodyguard", I play your typical desi girl. And here I am playing this modern, fun-loving girl, which probably comes closest to my character in "Jab We Met" (2009)."
While Khan looked on, Kapoor went on to reminisce about the Imtiaz Ali directed film of three years ago, which saw her sweep all the Best Actress awards of that year.
""Jab We Met" is a role that doesn't come every day, but the character of Rihanna Brigazna, who I play in "EMAET" is very real. She's fun, spouting dialogues that are used in everyday life. And sometimes it's easier to spout hardhitting lines with the right amount of glycerine than saying something and making it seem very real."
The film, which has been accused of being a rip off of Hollywood's "What Happens in Vegas", is the story of two strangers who get drunk one night in Vegas and wake up the next morning to find themselves married to one another.
"We've been asked that before, but the only similarity here is that both films are based in Vegas," assured Khan.
Err, and the fact that just like Hollywood on-screen couple Ashton Kutcher and Cameron Diaz, even Khan and Kapoor wake up from a drunken binge in this film, to discover that they have gotten hitched the night before.
"Come on, who doesn't go to Vegas and get drunk. Even "The Hangover" had a similar premise," reiterated Khan.
The movie has also been in the news for the past few months ever since its video blog made it to YouTube to give fans a more indepth, behind the scenes look into the shoot and the lead pair, along with Khan himself wielding a camera and go trigger happy.
Said Khan: "I love taking pictures. And so, yes I went a little trigger happy during the shoot with pictures of Kareena. However, the best thing about Kareena is that unlike other actresses, she has no hang-ups.
"I asked her once, what is your good side? And she came back with, all my angles are good. And she proved it in the pictures and the video blog."
Kapoor, who's had a bumper 2011 with films like "Bodyguard" and "Ra.One" to her credit, is also excited about her other films in 2012, including the March release of "Agent Vinod" with beau Saif Ali Khan and "Talaash" with Khan's superstar uncle, Aamir Khan.
Quiz her, which of the two Khans is more of a perfectionist and the younger Khan piped up: "Oh, definitely, the uncle."
However, Kapoor was quick to interrupt to say: "Imran is just like Aamir, with a beard. That's the only difference."
Produced by UTV Motion Pictures and Dharma Productions, "EMAET" is scheduled to release on February 9 across UAE cinemas.
Follow Emirates 24|7 on Google News.