Priyanka didn't think Hrithik was man enough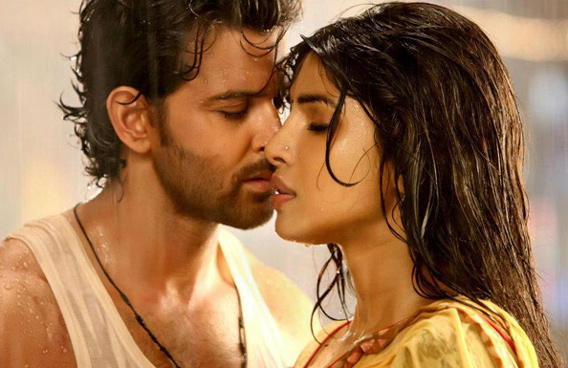 Hrithik Roshan's penchant to play the boy-next-door or the wounded soul has undergone a dramatic makeover for "Agneepath"; and if the promos are anything to go by, then the green-eyed actor has effectively channelled his angry young man persona down to pat.

However, even before the film commenced shoot, disbelief over his choice of filling in the shoes of the legendary Amitabh Bachchan, who portrayed this very character of Vijay Dinanath Chauhan in the original "Agneepath" of 1990, came from none other than co-star and good friend Priyanka Chopra herself.

Quiz the actress and she doesn't deny it, saying: "Yeah well, I did tell Hrithik, 'are you serious? You want to play this role? Doesn't this need like a man's man to perform?"

Chopra, who plays a prostitute in the film, laughed at her words, clarifying her statement, saying: "Truth is, it was such a mammoth task to take on such a film like "Agneepath", which has fascinated fans for generations.

"But that said, director Karan Malhotra has evolved the film and taken it into a whole new realm and both the male actors (Hrithik and Sanjay Dutt who plays the villain Kancha Cheena) have adapted these characters and taken them into a different sphere.

"What you see before you is the same premise as the 1990 film, but a new movie in itself. And the actors are brilliant, both Hrithik and Sanjay sir."

Chopra, who was in Dubai last week to promote her upcoming film, which releases across UAE cinemas on January 26, said that even though her character is new to fans of the original "Agneepath", it is no way unimportant.

"Kaali is the soul of the film," she said. "She brings a softness that is essential to the narration. In fact, when Karan narrated the script to me, I was blown away at how outstanding this script was going to be."

Her character replaces the original one that saw Madhavi play a nurse to Bachchan's Vijay, where the duo fall in love.

"I didn't have the stress that Hrithik or Sanju sir may have had to face considering there was nothing my character could be compared to, so what I portrayed was my own interpretation of a vulnerable Kaali," she explained.

Aside from Dutt's menacing Kaancha Cheena hogging the limelight in the trailers, the other focal point in the film is the chemistry Chopra shares with Roshan, particularly in a song sequence.

"The chemistry is all real," she laughed. "It was so easy to do."

The social media junkie, who has crossed 1.9 million Twitter followers, admitted that her "Agneepath" shoot was amazing, but certainly wasn't without drama.

"I am a klutz so it wasn't surprising," she recalled. "We were shooting the Ganesha song sequence with a 20-foot tall statue. During the aarti (veneration), I had to stare up at the idol and didn't realise that I was standing too close to the fire.

"It was only later when someone started screaming 'fire!' that I realised that my dress had caught fire."

At least we know she survived to tell the tale with no injuries.
Follow Emirates 24|7 on Google News.