Rekha's Bollywood affair at 58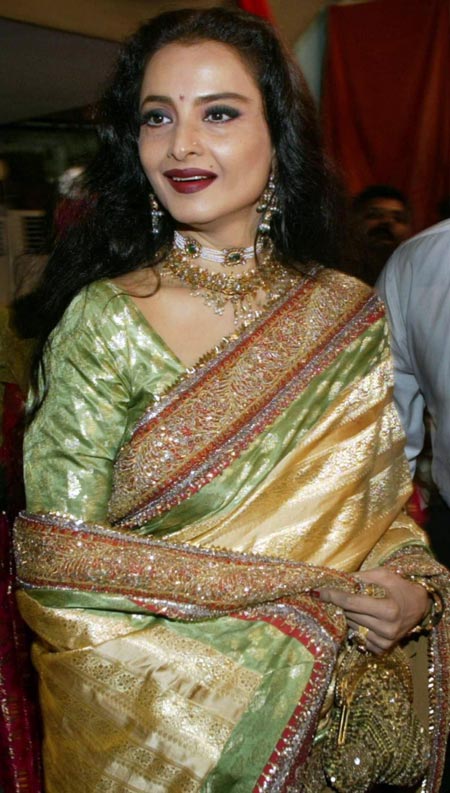 Be it the chirpy Manju of 'Khoobsoorat', revengeful Aarti of 'Khoon Bhari Maang', courtesan of 'Umrao Jaan' or even a seductive crooner in 'Parineeta', Rekha has breathed life into innumerable characters.
As the yester year actress turns 58 she remains one of the most enigmatic beauty of Bollywood.
With over 180 movies to her credit, Rekha has been part of several superhit projects.
Rekha has wowed her fans not by the acting skills but looking elegant, glamorous, chic and impressive!
Rekha is the daughter of Telugu actress Pushpavalli and Tamil actor Gemini Ganesan.
Her parents were not married and her father did not acknowledge his paternity during her childhood days. She didn't dream of becoming an actress, but because of the financial state of her family, Rekha had to quit school and take up films.
Rekha started her Bollywood career as a child actress with Telugu movie 'Rangula Ratnam' in 1966.
Her first film as a lead actress was 'Sawan Bhadon' (1970).
It was in the late 1970s that she went through a transformation and emerged as a sex symbol.
'Do Anjaane' (1976) was her first performance oriented film and her fans loved her in the new avatar.
Her 1978 film 'Ghar' in which she played a rape victim, became an important milestone in her career. She received her first Filmfare best actress nomination for the same.
Rekha was cast opposite Amitabh Bachchan in 1978 film 'Muqaddar Ka Sikandar'. The film became one of the biggest hit of the decade and brought her into the top league of actresses.
In 'Khubsoorat' Rekha was appreciated for her comic timing and that gave her the first Filmfare award.
Rekha and Amitabh Bachchan starred together in many films. While their onscreen chemistry was working for their careers, their off screen bonding became a regular feature in the gossip columns. Their love story was the talk of the town.
Rekha was highly criticised for being in a relationship with a married man.
Their relationship ended in 1981. Their last film together was Yash Chopra's 'Silsila'. Apart from Amitabh and Rekha, his wife Jaya Bachchan was also a part of the film.
In 1981, Rekha played the title role in 'Umrao Jaan'. Thanks to the songs and her brilliant acting, 'Umrao Jaan' is considered as a major milestone in her career. She won the National Film Award for Best Actress for it.
After the success of 'Umrao Jaan', Rekha featured in a lot of arthouse films. Films like 'Kalyug', 'Vijeta' and 'Utsav' further proved her acting abilities.
Rekha won her second Filmfare award for the film 'Khoon Bhari Maang'. She is among the first few actresses who starred in the female oriented films.
At present, Rekha is also a nominated Rajya Sabha member (Upper House of the Parliament).
MUST SEE:
Amitabh celebrates 70th with Jaya, Aishwarya, Abhishek and who's who of Bollywood
Amitabh Bachchan's 70th birthday bash: Who's not invited?
Forbidden love: Amitabh-Rekha affair still celebrated
Follow Emirates 24|7 on Google News.