Shah Rukh Khan loses confidence... bows out of Bollywood race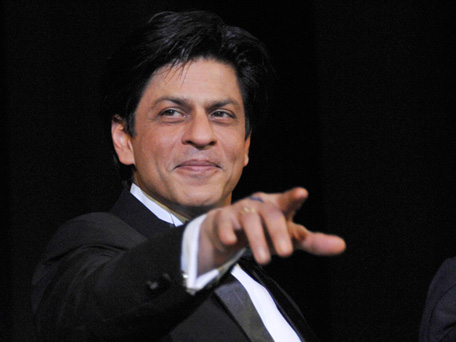 "Today only a few of my offerings are being accepted and liked by the audience," says a distraught Shah Rukh Khan.
King Khan himself today is of the opinion that he is losing his charm among the movie going audience and the people at large. He has realised that his charm and his style are not working with the people anymore and he has to be content with the fact that only a small segment of the audience is now appreciating the work he is doing in the movies these days.
An actor's popularity is usually gauged by the box office collections of his films and the response that the people give to his movies, movie trailors and posters as well. "Some people like my work and a few of my things are being liked and appreciated. I need to be happy with that," says Khan, a tinge of sadness enveloping his voice.
Khan was echoing his sentiments on the response to the first look of his next film at the marquee – Chennai Express. Khan has experimented with his look in this film. And when one does something new, there needs to be a dash of excitement in the voice and demeanour, but that has been missing in King Khan's style.
Shah Rukh Khan's response clearly indicates that he is not the flavour of the season anymore and the response to the posters of Chennai Express has been not as positive as he would have wanted it to be. The response is also indicative of the sagging confidence of the erstwhile King Khan. For a man who reeked of arrogance because of the way he was loved and accepted by millions for his romantic image, though he did not personally endorse it much, King Khan seems to doubt that very talent that once sent the cash registers ringing. The reason one reckons the lukewarm response his last film at the box office – the Yash Chopra directed romance Jab Tak Hai Jaan managed to elicit.
Jab Tak Hai Jaan was Shah Rukh only release in 2012. He had actually returned to terra firma - and played a romantic role after long. Films like Om Shanti Om, Ra One and Don 2 were films where he had moved away from his image earlier.
Romance was always SRK's strength. Add to that the fresh pairing with Katrina Kaif in JTHJ which raised many eyebrows and at the same time increased the curiosity value of the project. Despite all this the film did not manage to get that kind of a response. The film did manage to enter the illustrious Rs 100 crore club which has now become one reason that filmmakers celebrate their success and treat it like a yardstick of victory.
In the current scenario, Shah Rukh Khan is clear that he does not want to get the film piggyback on him and wants Chennai Express to be more of a Rohit Shetty movie. And hence prefers to talk more about Rohit Shetty than about himself or his movies. "Rohit is working very well on the film and has done a beautiful job on the film so far. His movies are usually very colourful and I am having a very good time working with him," says Shah Rukh Khan enthusiastically.
From Shah Rukh Khan's words it is pretty clear that he wants the film Chennai Express to run on Rohit's steam. Now Rohit is a Rs100 crore director for the past few films and is extremely popular among the audiences for his kind of movies. Rohit's movies are now synonymous with hits and he has managed three back to back Rs 100 crore movies. 2010 saw Rohit's directorial venture Golmaal 3 collect Rs 167 crore. 2011 saw his Ajay Devgn starrer film Singham enter the Rs 100 crore club. 2012 saw the Rohit directed Bol Bachchan do an encore. And perhaps it will be Rohit's success ratio which will perhaps help restore SRK's lost confidence.
Follow Emirates 24|7 on Google News.