'Sr Bachchan' names Aishwarya Rai's 'Beti B'...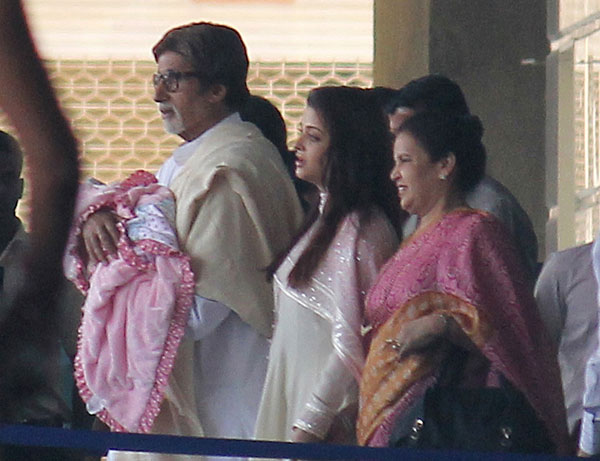 The die-hard fans of first family of Bollywood, the Bachchans, cannot stand the wait any more. Amitabh Bachchan and his family are simply taking too much time to shout out the official name of Aishwarya Rai and Abhishek Bachchan's Baby B's baby girl to the world.
One such fan, who goes about on Twitter as 'Srbachchan' could wait no more. The fan took to Twitter to announce to the world, including the Bachchan clan, that Aishwarya had named her daughter Aaliya: "NEWS NEWS!" "@Srbachchan RT #Aaliya is the Name of Beti B #Bachchan's :-):-):-):-)"
The news made waves on the micro-blogging site. Some Indian television channels that have been waiting for such news since November 16, 2011, ran the breaking news on air before waiting for further confirmation from the Bachchan family or their close circle of friends.
The tweet soon turned out to be a hoax, a believable hoax at that since 'Aaliya' fulfilled the 'double A' criteria. An insider had told some Indian media houses that Aishwarya's daughter's name starts with 'Aa'.
The Bachchan family has received millions of suggestions in the last two months on what they could possibly name the youngest member of the family. Now, billions of fans are curious to know what they have named her officially.
The official naming ceremony of Beti B was supposed to have been held on January 15. More than a fortnight later, with no official confirmation forthcoming from the infant's family, fans are becoming desperate enough to take things in their own hands... er... tweets.
Follow Emirates 24|7 on Google News.