'Boyzone' Ronan Keating doesn't regret affair that ended first marriage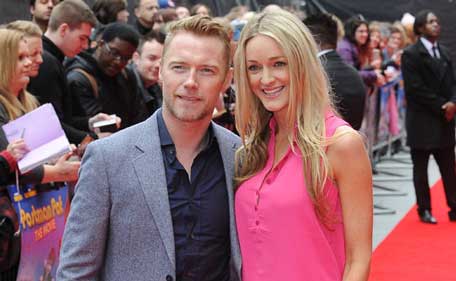 Former Boyzone star Ronan Keating has said he is fed up of taking flak for the fling that ended his marriage – and insisted he has no regrets.
On a Facebook post Ronan insisted he has no regrets about ending his marriage to ex-wife Yvonne Connolly.
The 38-year-old singer famously split with the mother of his three children after it emerged he had been having an affair with dancer Francine Cornell.
Ronan Keating, Yvonne Keating, Jack Keating, Melissa Keating and Ali Keating attends the Emeralds & Ivy Ball in aid of Cancer Research UK and the Marie Keating Foundation at Supernova on December 3, 2011 in London, England. (Getty)
The long-time spouses, who are the parents of Jack, 16, Missy, 14, and Ali, 10, finalised their divorce in 2015, with Ronan since finding love with TV producer and model Storm Uechtritz, who he married last year.
Ronan, 38, wrote: "I do not regret the end of my marriage, it's what I wanted. There is a lot more to it than an affair & obviously it was broken well before then.
"Over the years I have kept my mouth shut & taken all the blame for the sake of my kids & my ex wife. But enough now. After 6yrs I draw the line."
Missy Keating, Jack Keating, Ali Keating, Storm Uechtritz and Ronan Keating attend the Emeralds & Ivy Ball in aid of Cancer Research UK and the Marie Keating Foundation at Embankment Gardens on December 5, 2015 in London, England.(Getty)
He added: "There is a lot more to my situation than people will ever know & that's the way it should be. But there are always two people in a relationship and if it's not working there's more than one good reason for it."
"I will not stand for complete misrepresentation of my truth and my heart anymore. I've done that for way too many years and too long in the tooth for it. Please respect that everyone has moved on and better off.
"The only reason I've been polite enough to respond to any line of questioning about my past, is because I'm promoting my album and the essence of that album is authenticity and truth. I have nothing to hide.
"It's the first time in my life I've been able to write such a genuinely personal album and for someone to take my honesty and twist it into the opposite for a sensational headline is very upsetting. It goes against everything that I stand for and the music that I've created."
Ronan Keating (L) and Storm Uechtritz attend the 21st National Television Awards at The O2 Arena on January 20, 2016 in London, England. (Getty)
But Ronan didn't stop there as he later continued, "Not once did I say I was apologising to my ex wife or saying sorry for the affair. I said I was sorry for all the hurt it had caused, to which I truly am."
Ronan was married to Yvonne, 41, for 17 years before they called time on their relationship in late 2011.
Meanwhile, the former 'Boyzone' singer is currently busy promoting his new album 'Time Of My Life', released on February 12.
Follow Emirates 24|7 on Google News.