Brad and Angelina using Gwyneth's relationship expert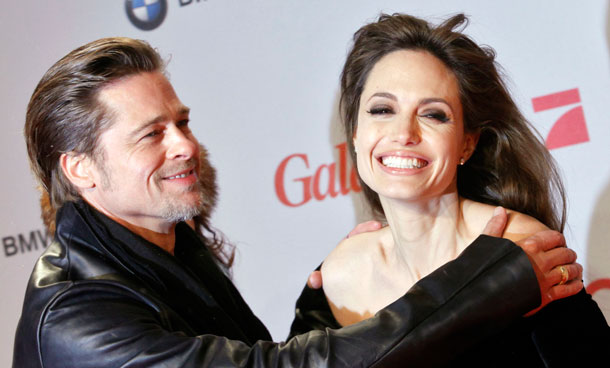 Brad Pitt and Angelina Jolie are being assisted in their divorce by Katherine Woodward-Thomas - the same relationship expert that guided Gwyneth Paltrow and Chris Martin through their "conscious uncoupling".
The former couple split acrimoniously last September but they are now keen to move forward in a "more positive way" for the sake of their six children, so have turned to Katherine Woodward-Thomas to help them resolve their issues and build a more friendly relationship.
Katherine - who is believed to have already started sessions with the couple but isn't able to speak directly about their meetings - said: "Parents like Brad and Angelina know this is the right thing to do for their children. The conscious uncoupling process I created is actually for people like them who have all these angry, hostile feelings.
"This is not an easy process to go through but it is possible.
Everything they'll have been experiencing is very normal, but because of who they are it's been hugely publicised, they're doing it on the world stage and we've seen how much trouble they are in."
Despite the tension between the former couple - who split after Brad was allegedly involved in a row with their oldest son Maddox, 15, on board a private jet - Katherine insists it is entirely possible for them to work through their hostility and still cultivate a "sense of family" for their brood.
Speaking to the new issue of Grazia magazine, she said: "It's definitely possible to consciously uncouple after an acrimonious split. It's never too late and in fact, many people will be motivated to do it because they're seeing how much their emotions have taken over and how they're in a very destructive cycle.
"The first step in conscious uncoupling is dealing with those really big primitive emotions which come up when you want to go to war. It is common when you break up ... It's normal to go into blaming and shaming but true power lies in never making the same mistakes again. For Brad and Angelina, their intention will be that their children have a happy childhood and a sense of family which is going to provide a happy post-divorce environment - as Gwyneth and Chris are modelling so beautifully."
However, the relationship guru admits she is unsure if Brad and Angelina will ever reach the same level of friendship as her former clients, who are parents to Apple, 12, and Moses, 11.
She said: "I'm not saying Brad and Angelina will be playing happy families like Gwyneth and Chris. It's a tall order given that Gwyneth and Chris didn't start at this level of animosity. There is probably a lot of tension which has been building for years in their relationship for it to blow up this way. It will be a harder road for them Gwyneth and Chris are real friends and I'm not sure this is true of Brad and Angelina. But I'm sure they can do this in a way that contains a certain amount of sanity for the children."
Follow Emirates 24|7 on Google News.