Brad Pitt moves from onscreen to behind-the-scenes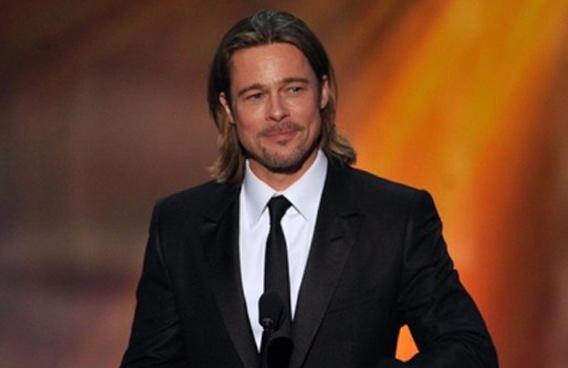 Never content to be just another Hollywood hunk, Brad Pitt these days is not just one of America's most bankable film stars but also a sought-after and influential movie producer.

Pitt and his life partner Angelina Jolie are Hollywood's gilded first couple, a fixture on the Big Screen and on the awards' show red carpet circuit.

The actor, 48, starred in the critically acclaimed "Moneyball" for which he has won a best actor Oscar nomination to this year's awards, as well as in the art film "The Tree of Life."

But these days, it is Pitt's work as a producer that most sets his heart racing. The actor, who says he is a "perfectionist" when it comes to his work, is on a mission to make sure that quality films, not just mindless trifles, get made in Hollywood.

In "Moneyball" Pitt played the role of Billy Beane, a baseball manager who developed a quirky but effective statistics-based approach to spotting on-field talent.

Pitt relished his Oscar-nominated role in the film, but said he may have got even more satisfaction as its producer.

The critically important behind-the-scenes-player on all films is responsible for hiring the director, overseeing the budget, coordinating the film's post-production and other indispensable tasks.

"Any movie you see here today wouldn't have made it to the screen, unless you had someone with the idea that this would make a good movie and then the fortitude and luck to push it through. Each one of these movies took some heavy lifting," Pitt told AFP.

"That's why I enjoy the producing side so much," he said.

Not that Hollywood's golden boy is any slouch in the acting department.

Pitt came into the public eye 20 years ago with a much-talked-about shirt-less film debut as eye-candy in the hit movie "Thelma and Louise."

Pitt has since been nominated for acting Oscars in 1996 for "Twelve Monkeys" and again in 2009 for "The Curious Case of Benjamin Button." Moneyball, his third nod, also garnered a best picture nomination.

His work on the production side of the film business had been made possible via his Plan B Entertainment film production company.

Over the years he has produced some two dozen films, including "Running with Scissors," "The Year of the Dog" and "Kick-Ass" - movies without a commercial Hollywood aesthetic and that might never have been made if not for his involvement.

Another Plan B project was last year's "The Tree of Life" which Pitt also starred in and which was directed by Terrence Malick.

Recalling the collaboration, Pitt's eyes light up at the mere mention of Malick's name.

"Terrence would get up in the morning and just kind of type like a stream-of-conscious ideas of today's scenes. And he would come and give us his pages.

And we would only do a couple takes," the actor said, with a clear appreciation for this fly-by-the-seat-of-your-pants approach to acting.

"He's a director, who doesn't want us to try to create the scene, he wants us just to take off, and he's going to be there and capture the moments that he feels are like life," he said.

"It was a really interesting idea for me. It leads to a freshness and an immediacy, because you're on your toes," he said.

"I love process, to try out a new process - whatever that process might be."

He plans to take a breather from the frenetic pace, to spend a bit more time with Jolie and the six children they have together.

"It's family first. This year, I needed to spend more time with my family so I spent more quiet time developing stuff," he said.

Meanwhile Jolie, 36 - one of Hollywood's top stars and among its most fetching leading ladies - has also been branching out from acting, with her directorial debut in the just released film "In the Land of Blood and Honey."

Pitt can be seen in two more upcoming films in which he has starring roles, "Cogan's Trade" and "World War Z."

As for trying his own hand at directing in the future, he has ruled it out.

"It's too much. I'm too much of a perfectionist," he said.

"I would be away from my family too long," said Pitt. "I prefer staying on the story side, working as a creative producer and acting."
Follow Emirates 24|7 on Google News.