Brad Pitt won't fight with Angelina Jolie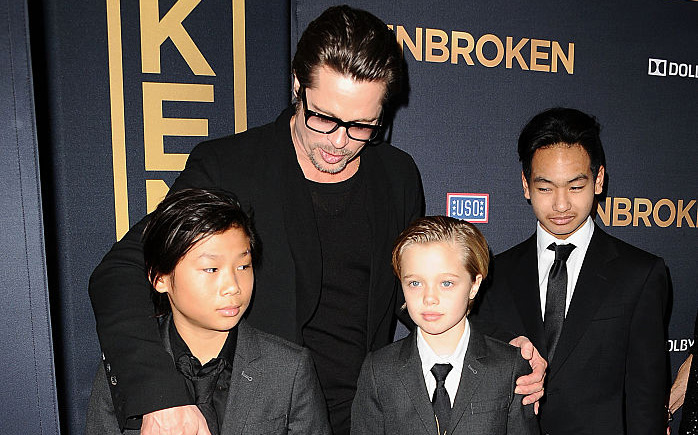 Brad Pitt "refuses" to be drawn into a war of words with his estranged wife Angelina Jolie because they want things to be amicable for their children.
The 53-year-old actor split from his wife last September following an alleged row on board a private jet between himself and their eldest son Maddox, 15, and though things were initially acrimonious between the former couple, now that child protection services are no longer investigating the 'Moneyball' star, they are trying to resolve their differences amicably for the sake of their six children.
Brad said: "I was really on my back and chained to a system when Child Services was called.
"And you know, after that, we've been able to work together to sort this out. We're both doing our best. I heard one lawyer say, 'No one wins in court - it's just a matter of who gets hurt worse.'
"And it seems to be true, you spend a year just focused on building a case to prove your point and why you're right and why they're wrong, and it's just an investment in vitriolic hatred.
"I just refuse. And fortunately my partner in this agrees. It's just very, very jarring for the kids, to suddenly have their family ripped apart. If anyone can make sense of it, we have to with great care and delicacy, building everything around that.""
And the 'World War Z' star doesn't want to end up filled with "hatred" for the 41-year-old actress.
He told the new issue of GQ Style magazine: "I see it happen to friends - I see where the one spouse literally can't tell their own part in it, and it's still competing with the other in some way and wants to destroy them, and needs vindication by destruction, and just wasting years on that hatred. I don't want to live that way."
Brad admits he initially wanted to "cling on" to Angelina, but has now grown to realise he needs to let her go.
He added: "The first urge is to cling on. And then you've got a cliche: If you love someone, set them free.
"Now I know what it means, by feeling it. It means to love without ownership. It means expecting nothing in return."
Since splitting from Angelina - with whom he also has Pax, 13, Zahara, 12, Shiloh, 10, and eight-year-old twins Knox and Vivienne - Brad has vowed to put his "family first" and make sure they have his full attention.
He said: "Kids are so delicate. They absorb everything. They need to have their hand held and things explained. They need to be listened to. When I get in that busy work mode, I'm not hearing. I want to be better at that."
And the 'Fury' actor wants to speak more openly to his brood about how he's feeling.
He added: "I come from a place where, you know, it's strength if we get a bruise or cut or ailment we don't discuss it, we just deal with it. We just go on. The downside of that is it's the same with our emotion.
"I'm personally very retarded when it comes to taking inventory of my emotions. I'm much better at covering up. I grew up with a Father-knows-best/war mentality--the father is all-powerful, super strong--instead of really knowing the man and his own self-doubt and struggles.
"And it's hit me smack in the face with our divorce: I gotta be more. I gotta be more for them. I have to show them. And I haven't been great at it."
Follow Emirates 24|7 on Google News.