Branson's space travellers: Angelina Jolie, Brad Pitt, Gaga, Bieber...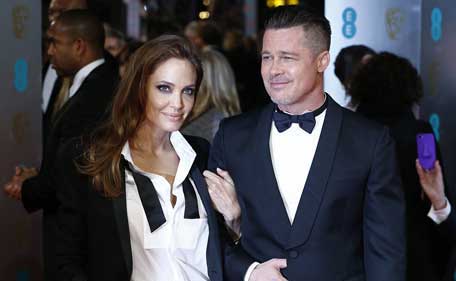 Around 500 people, who have paid $250,000 to travel into space on Richard Branson's highly ambitious SpaceShipTwo, stands by British tycoon as his space dream lives on.
(FILES) This January 23, 2008 file photo shows Sir Richard Branson, founder of Virgin Galactic, with a model of the Spaceship Two at the America Museum of Natural History in New York. (AFP)
Ticket holders still plan on taking the trip even after Friday's horrific explosion.
Power couple Brad Pitt and Angelina Jolie are among the celebrities who booked a tickets on SpaceShipTwo.
Lady Gaga. (Agency)
High profile singers Lady Gaga and Justin Bieber have also booked tickets, with Gaga saying she wanted to sing in space and Bieber saying he wanted to shoot a music video.
There have been reports suggesting that Gaga could marry her boyfriend Taylor Kinney in space on Richard Branson's Virgin Galatic flight.
Justin Bieber (Agency)
Ashton Kutcher was one of the first celebs to book his ticket, something that got him a special blog post from Branson at the time.
But the excitement has to be contained for the time being.
Ashton Kutcher. (Agency)
Branson insisted Saturday his dream of commercial space travel was still alive though he will first focus on causes of the spacecraft crash that killed one pilot and seriously injured another.
Speaking to reporters after arriving in the California facility that had served as the hub of Virgin Galactic's space program, Branson said safety remained his paramount concern.
Katy Perry. (Agency)
"We owe it to our test pilots to find out exactly what went wrong, and once we've found out what went wrong, if we can overcome it, we'll make absolutely certain that the dream lives on," a grim-faced Branson told reporters.
"We do understand the risks involved, and we're not going to push on blindly," he said. "To do so would be an insult to all those affected by this tragedy.
Leonardo DiCaprio. (Agency)
"Safety has always been our number one priority," he added before heading off to rally grieving Virgin Galactic staff.
Branson announced on the Virgin Galactic site that refunds would be available following the tragedy.
Princess Beatrice. (Agency)
That being said, no one has yet to back out, and many are still excited to get their astronaut wings.
Other celebrities who are set to fly include Katy Perry, Russell Brand, Leonardo DiCaprio, Princess Beatrice, Tom Hanks and Lance Bass.
Tom Hanks. (Agency)
Branson's comments at the Mojave Air and Space Port came as a team of federal investigators began probing the causes of Friday's accident, which dealt a devastating setback to the cause of commercial space tourism.
The crash saw the company's suborbital SpaceShipTwo break apart and hurtle to the ground shortly after it had detached from a mothership at an altitude of around 45,000 feet (13,700 meters) during a test flight.
Virgin founder Sir Richard Branson speaks at a press conference at the Mojave Air and Space Port in Mohave, California on November 1, 2014. (AFP)
The Los Angeles Times identified the pilot killed in the crash as 39-year-old Michael Alsbury, a father of two.
The crash was the second disaster to rock the private space industry in the space of a few days, after an Antares rocket carrying supplies to the International Space Station exploded after take-off in Virginia in Tuesday.
(REUTERS)
Space tourism grounded:
Experts say the accident will delay the advent of commercial space tourism by several years.
Virgin Galactic had hoped to start ferrying wealthy customers to the edge of space in 2015, charging $250,000 per person for a ticket on the company's six-seater vehicle.
The Virgin Galactic SpaceShipTwo rocket explodes in mid-air during a test flight above the Mojave Desert in California October 31, 2014. (REUTERS)
As investigators launched their probe, early attention had been focused on a new kind of fuel being used in the doomed flight, the 35 by SpaceShipTwo.
The plastic-based fuel had been tested on the ground before but not in flight.
(REUTERS)
The accident was not the first tragedy to strike the Virgin Galactic program.
In 2007, three people were killed after a rocket designed for use in SpaceShipTwo exploded during testing.
A piece of debris is seen near the crash site of Virgin Galactic's SpaceShipTwo near Cantil, California November 1, 2014. (REUTERS)
Witnesses to the latest accident said there was no obvious sign of an explosion from the ground.
Private companies are rushing to fill the gap left by NASA, which ended its 30-year shuttle program in July 2011 with a final Atlantis mission to the International Space Station.
Analysts said the latest accident is a huge blow to the nascent industry.
A combination of photos show Virgin Galactic's SpaceShipTwo as it detaches from the jet airplane that carried it aloft and then exploding over the skies of the Mojave Desert, California October 31, 2014. The passenger spaceship being developed by Richard Branson's Virgin Galactic company crashed during a test flight on Friday near the Mojave Air and Space Port in California, killing one pilot and seriously injuring the other, officials said. (REUTER)
Follow Emirates 24|7 on Google News.