Bread seller photobombs pop star, ends up with modeling contract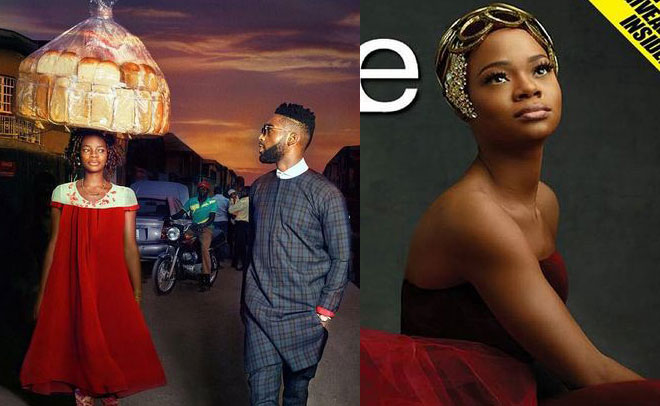 It's all about right timing. And what we are about to tell you is nothing short of a modern-day fairy tale.
A bread seller walked past pop star Tinie Tempah during an Instagram shot and captivated the photographer. Her life was changed after she photobombed the pop star.
Here's the whole story.
Who is she? Everyone has been asking if this lady is a model.
English pop star Tinie Tempah, famous for tracks such as 'Pass Out' and 'Written In The Stars' travelled to his home country Nigeria.
While he was there, he did a photoshoot, and someone casually photobombed him.
Instagram/Ty Bello
Olajumoke Orisaguna, 27, a breadseller in Lagos, unintentionally walked through a photoshoot of Tinie Tempah in his home country.
Photographer Ty Bello didn't think much of Olajumoke or her casual photobomb until later, when she was going through and editing the photos.
That's when she noticed that she'd accidentally taken a truly incredible shot – and that Olajumoke was someone pretty special.
Her beauty shines out of the frame very naturally.
Ty Bello was very taken by her natural modelling skills as she photobombed the shoot.
Bello wrote on her Instagram account that she would be willing to help the bread seller build a modeling portfolio if she could track her down.
stagram/Ty Bello
"Who is she?" she wrote on Instagram. "Everyone has been asking if this lady is a model... It was a perfect coincidence... She just happened to be walking by while I photographed. It happened so fast.
"She definitely should be a model. I'm happy to help her build her portfolio if she's interested.
"She's so beautiful and photographed so well. I'll find a way to track her down somehow. You guys can also help."
stagram/Ty Bello
With a lot of searching, Bello managed to track her new muse down.
She discovered that Olajumoke is a mother of two with an incredible life story.
Bello decided to create a short documentary about Olajumoke, and pulled some strings to get her on the cover of Style magazine.
Just a few days later Olajumoke was starring in a high fashion photoshoot, along with her younger child, 14-month-old Grace.
A team gave Olajumoke a model makeover, removing her extensions to give her a close crop, and keeping her makeup minimal.
She was a total natural in front of the camera.
'She stepped in front of my camera and I almost couldn't recognise her,' wrote Bello.
Olajumoke has since become something of an Instagram sensation in Nigeria with the hashtag #olajumoke being shared over a thousand times.
The model has now been signed with an agency, who shared an image of her on Instagram.
One photo'bomb' that changed this woman's entire life.
Follow Emirates 24|7 on Google News.