Call for boycott Dolce & Gabbana over 'synthetic' baby comment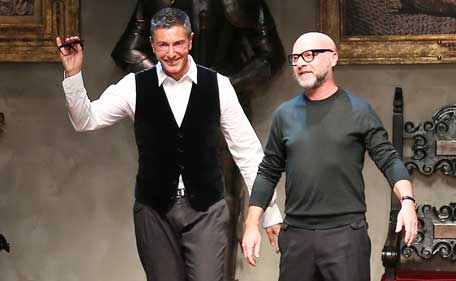 Fashion designers Domenico Dolce and Stefano Gabbana drew applause for sending a pregnant model down the runway as part of their tribute to mothers, but their endorsement of traditional families in a recent interview unleashed harsh criticism and calls to boycott their label.
The designers, under growing social media pressure, issued a statement Sunday saying their comments in an interview with Italian magazine Panorama supporting traditional families with a mother and a father weren't intended to judge the choices made by others.
Elton John added his voice to the call to boycott the designers' Dolce&Gabbana label.expressing offense at their skepticism about the use of in vitro fertilization and surrogate mothers to create families. The musician's two children were conceived by in vitro fertilization.
In this March 1, 2015 file photo fashion designers Domenico Dolce, right, and Stefano Gabbana acknowledge the applause after presenting their women's Fall-Winter 2015-16 collection, in Milan, Italy. (AP)
The singer and his husband David Furnish have two children. John uploaded a photo of the designers clad in black veils to his Instagram account with the caption:
"How dare you refer to my beautiful children as 'synthetic'. And shame on you for wagging your judgemental little fingers at IVF ... Your archaic thinking is out of step with the times, just like your fashions. I shall never wear Dolce and Gabbana ever again. #BoycottDolceGabbana."
Italian magazine Panorama's website last week quoted Sicily-born Dolce, whose brand has long counted Madonna and Naomi Campbell among clients for its designs inspired by his native island, as saying:
"You are born and you have a father and a mother. Or at least it should be like this, that's why I am not convinced by chemical children, synthetic babies, wombs for rent."
Dolce and Gabbana, who are now business partners after their romantic relationship ended, said on Sunday they had been talking about their own opinions and had not meant to judge others' behaviour.
Singer Ricky Martin, the father of twins born by a surrogate mother, called on the pair to "wake up" in a message on Twitter, admonishing the designers that their voices were too powerful to spread hate.
Gabbana said in a statement Sunday that "it was never our intention to judge other people's choices. We do believe in freedom and love."
Dolce says he was expressing his view about family based on his experience growing up in a traditional Sicilian family "made up of a mother, a father and children. I am very well aware of the fact that there are other types of families and they are as legitimate as the one I've known."
Dolce said he was expressing his personal views "without judging other people's choices."
The designers have put the traditional family at the center of their last two collections, sending a pregnant model and models with their own children down the runway to celebrate motherhood for next winter's womenswear collection, while featuring grandmothers with their grandsons for menswear.
Also see: Movie Listings in UAE
Follow Emirates 24|7 on Google News.