Cardi B hits back at Nicki Minaj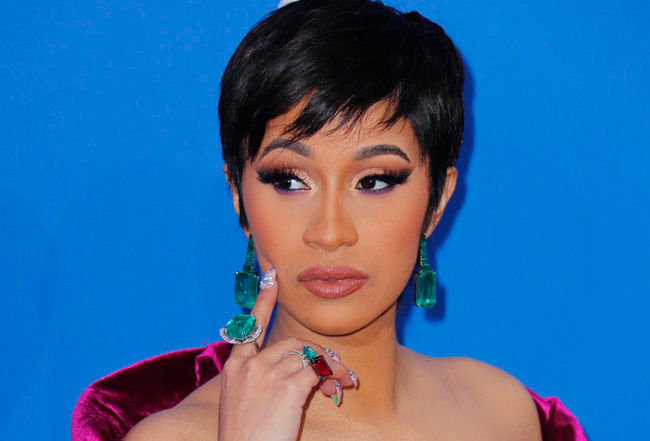 Cardi B has defended herself against Nicki Minaj's claims that she used "sympathy and payola" to get success.
The 'Be Careful' hitmaker has hit back at her rival over her claims Cardi bought her way into the chart, insisting "numbers don't lie" when it comes to her sales figures.
She shared a post showing her debut LP, 'Invasion of Privacy' has the number three spot on 2018's Top 10 Best Selling Hip-Hop Albums and wrote: "NUMBERS DONT F*****G LIE (sic)"
She also uploaded a video from a 2016 concert and wrote: "7/29/2016! NO LABEL, NO RADIO PLAY, FRESH OUT OF LOVE AND HIP HOP, ONLY 200K IN MY BANK ACCOUNT, MY FIRST TOUR !!! nobody can make you feel like you cheated yourself or you don't deserve to be where you at when you KNOW YOU WORKED YOURSELF TO THE TOP !!! THANK YOU BARDIGANG !YOU BEEN HERE SINCE THE GET GO! (sic)"
Her remarks came after Nicki used her Apple Music Beats 1 show on Monday to slam Cardi and accuse her of building her career on "sympathy and payola" - the practice of paying radio stations to play a song - following their altercation at a New York Fashion Week party days before.
She said about their fight: "You knew that when that footage came out, you were about to look dumb.
"So your team, they hurry up and put out a statement. I didn't stop anyone's bags. She had to say that because she has built her career of sympathy and payola."
The 'Chun-Li' hitmaker also admitted the row had been "humiliating".
She said: "The other night I was part of something so mortifying and so humiliating to go through in front of a bunch upper echelon people who have their life together.
"I was in a Gaultier gown - off the motherf*****g runway- and I could not believe how humiliated we all felt."
Follow Emirates 24|7 on Google News.