Cardi B wants at least $300k for first gig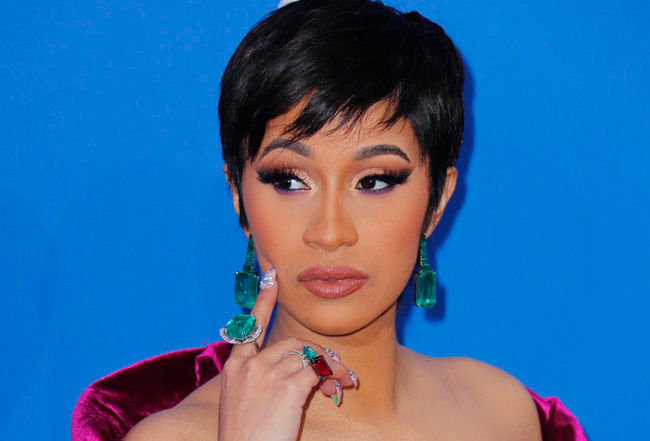 Cardi B has demanded at least $300,000 to get her back on stage following the birth of her daughter Kulture seven weeks ago.
The 'Bodak Yellow' hitmaker only welcomed her daughter Kulture, whom she has with her husband Offset, into the world seven weeks ago and, although she wants to focus on motherhood for the time being, she has told promoters that she will consider leaving her little girl for one night only in exchange for a big pay out.
A source told TMZ that the 25-year-old rapper wants $300,000 to get back on stage and everything has to be on her terms, but it looks like show organisers are willing to do anything to snap her up as they've been offering $500,000.
However, it's not just the price that needs to be right as the brunette beauty has also said any gigs need to be close to her home so she can go back to her baby.
Cardi announced that she had pulled out of Bruno Mars' tour '24K Magic', which kicks off in September, because her body didn't feel ready to do the choreography every night so soon after giving birth.
She also felt uncomfortable leaving her newborn daughter for that long after doctors told her that there's no way the tiny tot can join her on the tour bus or fly.
She said at the time: "I think I underestimated this whole mommy thing. Not only am I just not ready physically, I'm not ready to leave my baby behind since the doctors explained it's not healthy for her to be on the road."
However, despite her decision not to go on tour, Cardi has wasted no time throwing herself back into work as she's determined to make money for her baby.
One fan said recently: "Nothing puts in perspective how much women give up being pregnant and having a baby more then the fact that Cardi B had to cancel a world tour with the biggest pop artist in the world right now and Offset is still on tour like nothing happened (sic)"
To which Cardi replied: "Just cause I'm not on your doesnt mean I'm working ;)I'm working harder then ever and you will see soon ! (sic)"
Follow Emirates 24|7 on Google News.