Caught: Deepika Padukone's special date with Ranveer in NY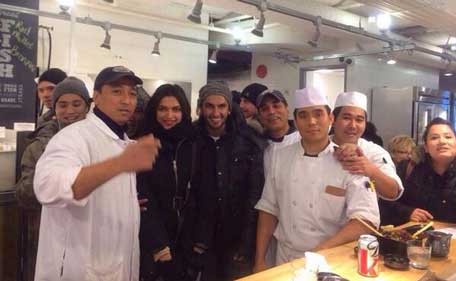 Bollywood beauty Deepika Padukone turned 28 on January 5, and we were given to believe that the actress celebrated her special day with her parents and sister Anisha.
But it turns out that Deepika flew to New York with none other than 'good friend' Ranveer Singh.
While fans saw her on Karan Johar's chat show 'Koffee With Karan' denying her link-up with Ranveer, the actress was actually partying with him away from the preying media.
With social media and Instagram demolishing the privacy barrier of celebrities, there is no escape for superstars like Deepika and Ranveer.
(@tracylimbu)
In New York the two bumped into a bunch of fans and Twitter was abuzz with pictures of the two actors in a cafe.
During Karan Johar's chat show Deepika revealed how breaking up with Ranbir Kapoor affected her - stressing how the "relationship became my world".
Deepika went on to say that she has commitment phobia after her break-up.

"I'm very, very scared to invest in emotionally in a relationship, because I don't know how to just casually date, I don't know how to be in this in-between dating but not committed thing. I don't know that space."
Alright Deepika we heard you. This outing with Ranveer is not "in-between dating but not committed thing", so what is it?
Ranveer looked very happy to pose with excited fans but Deepika did not oblige.
(@tracylimbu)
Lucky fan Tracy Limbu posted pictures on Twitter and wrote, "Ranveer Singh is such a sweet heart. Deepika got mad cuz people were surrounding her too much lol."
Tracy was overjoyed to see Bollywood's hit couple in her store and wrote, "Deepika and Ranveer are in my ******* store holy ****."
"I'm taking a picture with them. Bye".
But Deepika was not a complete snob and posed with the chefs and cafe staffs. Tracy wrote, "Ok guys, 1 last picture of them. This was taken before they left. They bade us farewell with nice warm smiles. ;)."
(@tracylimbu)
Tracy posted a photograph of the couple and pointed out Deepika's tattoo on her nape to authenticate the claim. "Yes they were together. Look at her tattoo on her neck. ;)".
What's interesting is that Deepika's ex Ranbir Kapoor was supposed to be vacationing in New York with girlfriend Katrina Kaif.
New York is certainly becoming a hotspot for young Bollywood couples.
Were all four of them partying together - not likely.
But we suggest Deepika should stop vehemently denying her relationship with Ranveer - not after being photographed repeatedly together around the world.
It seems Deepika is following Ranbir's policy of keeping mum about his relationship even after blatant proof.
But guys, actions speak louder than voice.
Follow Emirates 24|7 on Google News.