Caught in Dubai: Deepika, Ranveer snapped at nightclub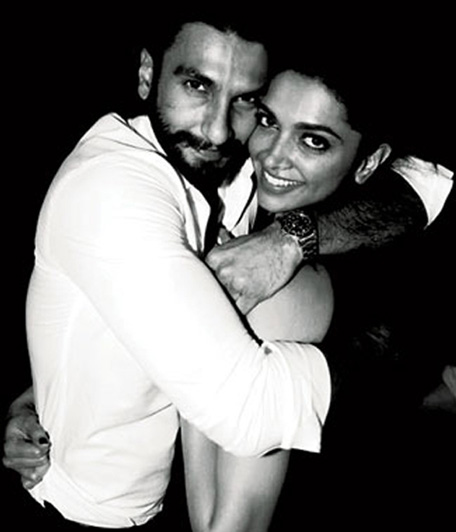 A tight hug says it all! But then we are ready for a 'just-good-friends' statement from Bollywood actor Ranveer Singh and Deepika Padukone, who were caught on camera partying away in Dubai.
Far from the media glares in India, the actors may have thought Dubai is a safe haven and let their guards down.
Alas! A picture of them embraced in a tight hug has now gone viral.
The actors spent hours in a Dubai nightclub, dancing their way through all the speculations about their relationship.
What is Bollywood without a few shades of noir playing out with Hitchcock-ian finesse in the lives of its sparkling glitterati?

Deadpanned denials, clandestine meetings and sensational secrets could certainly keep an international spy ring flushed with cash, should it be hired to shadow some of Indian cinema's finest.

Such cloak and dagger subterfuge uncovered a wicked whisper that should set quite a few tongues wagging in Bollywood central, as the stunner Deepika Padukone was spotted partying away in a Dubai nightclub with none other than rumoured boyfriend Ranveer Singh.

While two stars dancing with abandon is hardly a headline grabber, it does become news when the actress in question was in the emirate promoting her upcoming thriller, 'Race 2', while Singh – who has nothing to do with the Abbas-Mastaan film – was simply jetting in for a night out on the town that supposedly ended at Movida.

Adding further fuel to the fire was Padukone's own meet and greet with the media, where she categorically told Emirates 24|7: "I don't understand what's this fascination people have with my personal life, but yes, I am single."

Say what now?

In fact, Padukone's co-star of 'Ram Leela' has been linked with her post his apparent break-up with actress Anushka Sharma, with whom he never confirmed a relationship with either despite the duo being spotted canoodling on many an occasion by onlookers.

Singh's newfound friendship with Padukone is also said to be fuelling a feud between the two actresses.

Yet, while Sharma has made several statements to the press about this alleged rivalry, a few even catty enough to have the claws sharpened out, Padukone has on her part, maintained a dignified silence on the matter until recently.

When quizzed directly on the subject of Sharma, Padukone didn't mince words to say: "A lot of these so called feuds in Bollywood are media generated. Anushka and I are friendly with one another when we meet and I wish her well."

The leggy actress went on to add: "Even in regards to 'Race 2', a lot of was speculated that three actresses in one film is sure to result in catfights on set, but I think all three of us [Ameesha Patel and Jacqueline Fernandez] got on famously."

With five other leads vying for screen time in 'Race 2', including Saif Ali Khan, John Abraham and Anil Kapoor, was there even a meaty role leftover for Padukone to show off her acting prowess?

"I wouldn't have signed on if such wasn't the case," she explained. "The script is so good and the characters fleshed out so well, that each of us had ample scope to shine on screen. When you see the film, you will understand what I mean.

"As an actress, I am confident that I have worked equally well as an individual and as part of a team in 'Race 2'."

Quizzed if she has performed any of her own stunts in the thriller and she admits that one car chase sequence does put her in the driver's seat.

"There is one car chase scene that ends with a bomb explosion that I am involved with; but on the most part, this is not a full-fledged action film for me," she confessed.
Cast of 'Race 2' during a promotional event in Dubai. (Ashok Verma)

The dapper Padukone, looking stylish as ever in knee high boots and zebra-stripped leggings, which she complemented with an emerald green jacket, said that 'Race 2' does she her in some of her best designer digs, with all credit going to stylist Anaita Shroff for her appearance on and off screen.

"I just won the award for 'Most Stylish' for 'Cocktail', but Anaita is really the whiz behind the camera who works her magic on me," admitted Padukone, who earlier this week won accolades for daring Prabal Gurung gown at the annual Filmfare Awards.
Deepika Padukone arrives at the 58th Idea Filmfare Award ceremony. (Sanskriti Media)
Towering over most of her actors at 1.74 metres, the diva has always complained that it's very rare that she gets to show off some stylish stilettos on or off camera.

Pointing to her flat-heeled boots, she laughed and said: "Actually, I was ecstatic to wear a few heels in 'Race 2'. But only because the character demanded it and I could get away with towering over Saif in some scenes. However, that isn't always the case."

The Padukone-starrer 'Race 2' releases across UAE cinemas on January 24, while many, we are sure, would be eager to see her on-screen chemistry with Singh in 'Ram Leela' that releases this November.

Till then, fans can wait.
MUST READ:
Nach Baliye 5: Deepika Padukone gets racy with Shilpa Shetty
Shah Rukh Khan: India's most powerful? Forbes seems to think so
Beyonce bluffs America: Lip-synchs national anthem during Obama inauguration
Follow Emirates 24|7 on Google News.