CBS orders replacements for "Two and a Half Men"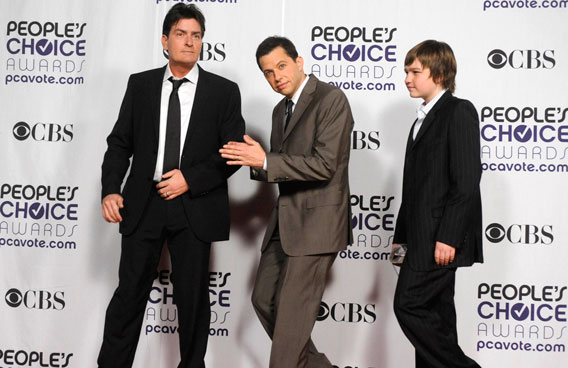 CBS has ordered two additional episodes of Monday sitcoms "Mike and Molly" and "Rules of Engagement" to help cope with scheduling issues arising from the absence of Charlie Sheen from the hit show "Two and a Half Men," according to sources.
These extra shows will fill in a schedule with sudden holes caused by the absence of Sheen, who reportedly is attempting a rehabilitation program at home with a trained expert in addiction. (Sheen's spokesman declined comment on the actor's health, citing federal privacy laws.)
TMZ has reported that Sheen, who was admitted to a Los Angeles hospital last Thursday complaining of abdominal pains, will be unable to work for three months. A CBS source says that the network has not been informed that Sheen will be out for the season, but his absence would leave CBS short of eight episodes of the planned 24-episode season (there has been no serious talk of shooting the series around his absence).
Warner Bros. Television, which makes "Men" and "Mike" (both from studio-based executive producer Chuck Lorre), would not comment on the additional episode order. TMZ claimed Warners and CBS played a role in selecting the addiction specialist treating Sheen, but Warners would not comment on what role it played (if any) in locating the expert. Neither CBS nor Sony Pictures Television, which makes "Rules," immediately responded to requests for comment.
CBS has said in a statement that a shutdown of "Men" "is not material" to the network. "Any ratings declines will be more than offset by the reduced programing costs for episodes lost this season," the network said.
Describing its schedule as "strong and deep with hit series," CBS said it is not reliant on one show. "In addition, 'Two and a Half Men' has always performed well in repeats," the network said.
Follow Emirates 24|7 on Google News.