A for Apple: Aishwarya's Aaradhya tackles iPad on her own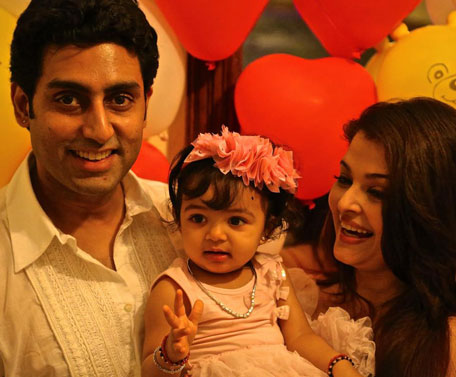 Amitabh Bachchan is probably one of the first Indian actors who took to social media to establish a personal connection with his fans and critics.
He is extremely tech-savvy and has been maintaining his blog and his posts on various social networking site without fail. Important to mention here, he also gives glimpses of his persoanl lives through his posts and tweets.
The proud grandpa that Amitabh is, he also keeps the world at large posted about his children and grandchildren. He has three grandchildren in total so far and his youngest is Abhishek and Aishwarya's daughter who is just a little over one year old - Aaradhya Bachchan.
Amitabh had announced Aishwarya's pregnancy to the world and the subsequent arrival of his grand daughter on social netowkring site. Keeping up with that tradition, the proud Grandpa could not stop gushing recently when he found the little one playing with an iPad and even managing to switch it on - on her own to keep herself amused with nursery rhymes.
He tweeted: "Aaradhya turns on the iPad to her favorite nursery rhythms programme all by herself... picks up remotes wherever she can see one and points it to the TV in a pretense to put it on," Amitabh wrote on his blog.
Amitabh also regrets that people of his generation would not be around to watch the little wonders handle hi-fi gadgets from birth as technology evolves more and more.
The 70-year-old veteran added: "What a fantastic generation of our world and what a pity we shall never be there to see it evolve into a world that shall be governed and controlled by little kids and their deep accumen at the cyber."
Follow Emirates 24|7 on Google News.