Aamir, Vidya, Priyanka share their New Year's resolutions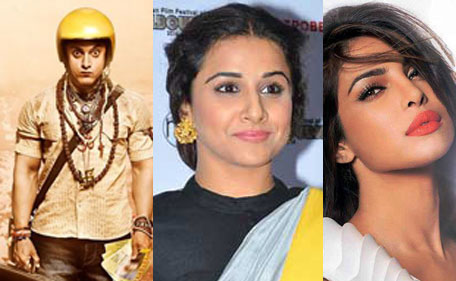 On the New Year while several Bollywood stars were abroad, there were some who stayed back in India and tried to make it memorable. We wanted to know how the stars celebrated their New Year and what were their New Year's resolutions
Aamir wants to learn Tabla

Aamir Khan says that Circa 2014 has been pretty awesome. First his TV show 'Satyamev Jayate' was praised and then there was the awesome success of 'PK'. "I celebrated the New Year with my family at my new home. I want to learn to play the tabla which I have not done till now though I wanted to," admits the actor. Incidentally another legend with a similar name invented the tabla – Aamir Khusro!

Arbaaz wants to give up smoking and lose weight

Arbaaz Khan is busy with the promotions of his new film 'Dolly Ki Doli' "I celebrated this new year at my Panvel farmhouse with my entire family in attendance. My New Year resolution is that I will continue the no smoking resolution I started in 2014 and want to lose weight too. I have started working on it and want to put a control on my eating sweets too," he says.

Priyanka wishes to be a good producer

Priyanka Chopra is very happy with this New Year. "After a long time and I know I've got a long holiday. For me vacations are hard to get. This New Year I am on vacation until January 3 and New Year celebration were at my farmhouse in Goa with my family and friends. As far as my new resolution is concerned, I take it every year and break it in the first week of January. This year new resolution is to be a good producer and create good music," she admits.

Vidya Balan will be Health Conscious

"Each year is special for me because my birthday is on January 1 and it is a double whammy. I celebrated New Year with my family and friends and the party will be in Mumbai. My New Year resolution is that I will take care of my health. I was going through several health issues in 2014. I have lots of hope for 2015," says the actress.

These superstars wereabroad

Shah Rukh Khan, Hrithik Roshan and Sridevi celebrated their new year in Dubai, Ranbir and Katrina are in New York, Bebo and Nawab are in Switzerland. Deepika left for Maldives and Akshay Kumar celebrated his new year in South Africa with his family.


Follow Emirates 24|7 on Google News.