Aishwarya Rai in no hurry to lose the baby flab...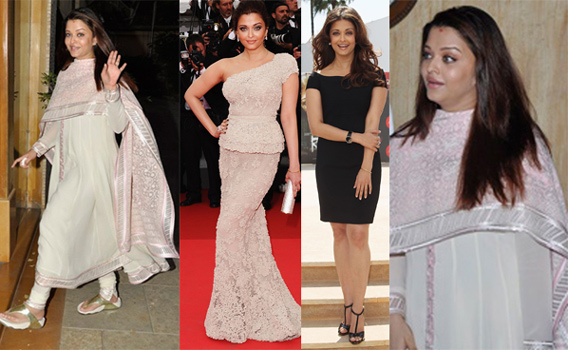 Aishwarya Rai Bachchan seems to be in no hurry to lose her pregnancy flab.
Almost three months after her delivery she made her first major public appearance at Ritesh Deshmukh-Genelia D'Souza's wedding reception.
Even after three months she has all the extra flab that comes with post-pregnancy.
Her chubby face makes her look adorable, but than it's just about that, nothing more.
Ash may prefer to lose the pregnancy kilos in the natural way over time but that may cost the beautiful actress her coveted sexy crown.
Aishwarya attended the wedding in a traditional outfit hiding her extra kilos but her chubby cheeks revealed the story behind the scene. She wore a suit with green undertones with blue and gold dupatta and wore her hair down.
Immediately after her pregnancy she was spotted with fit flops but now she has given even those pair a miss and was seen in high heels.
Ash also slips from the Most Desirable list of actresses in Bollywood. From being number two she was featured in as number ten in Top 50 Most Desirable Women of 2011 list.
Contrary to Aishwarya other celebrities moms lost weight in no time to showcase their washboard tummy.
Beyonce, just a month after having daughter Blue Ivy, has got her curves back and recently showed off her whittled down waist in a body con dress.
Miranda Kerr's post-baby fabulous body was scientifically programmed to be gorgeous and have a fab figure.
Victoria Beckham fashioned her baby belly in a chic navy number at the British royal wedding. And before we could blink she'd had daughter Harper and was back to her usual super slim self.
Angelina Jolie donned the pregnant girl's fashion staple – a maxi dress when preggers but within weeks she ditched the floaty fabrics in favour of a strapless fitted frock.
Halle Berry looked she was never pregnant just weeks after she had her daughter.
So what's with Aisharya Rai Bachchan holding on to that load of fatty flab?
Follow Emirates 24|7 on Google News.