Aishwarya Rai's new career - Indian TV star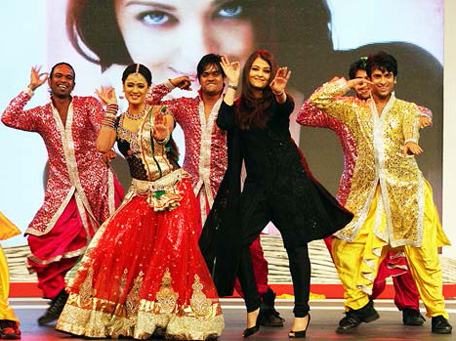 Bollywood actress Aishwarya Rai Bachchan may have been away from the big-screen, but not entirely from limelight.
Ash has become a star attraction at events and a crowd puller for the attention-deficient charity and social awareness functions.
Bollywood's Bachchan daughter-in-law is the most sought-after and committed guest of all parties, weddings and events this season.
Now it emerges that Aishwarya is also a favourite across Indian Television channels.
Indian actress Aishwarya Rai Bachchan with school kids during NDTV's Support my School Campaign. (SUPPLIED)
A couple of weeks ago Ash appeared on NDTV for the Coca Cola - NDTV 'Support My School' campaign.
She along with cricketer Sachin Tendulkar helped the channel raise Rs13.6 crore (Dh10 million appox) towards the revitalisation of 272 schools across India via a telethon.
Aishwarya Rai Bachchan (C), Indian cricketer Sachin Tendulkar (R) during NDTV's Support my School Campaign. (SUPPLIED)
Campaign Ambassador, Aishwarya said, "Joining the Support My School Team on this platform today truly gives me great pleasure. I believe Education is immensely Invaluable, Essential and the most Empowering gift we can give the children of our Country.
"Every child deserves the best of opportunities to grow and prosper. Every girl needs to recognise that she herself is a beacon of hope and has the potential to influence her future. And I understand and recognise, for this to be possible, these opportunities have to be made available to our children!!!"
(L-R) Delhi Chief Minister Sheila Dixshit, actress Aishwarya Rai Bachchan and Indian cricketer Gutam Gambhir. (screen grab)
That's not all, Ash joined the team to another television network CNNIBN and IBN7 for Zindagi Live Awards.
Zindagi Live Awards is recognising the undying hope and tenacity of those who refuse to give-in to adversities. The awards have derived their inspiration from 'Zindagi Live', an award winning talk show that features on IBN7.
These awards are given to people who put up a brave fight in the face of extreme circumstances and choose to embrace the zeal of life.
The Bollywood actress who was present at the event as the guest of honour aired her views on the December 16 Delhi gang rape.
When the actor was asked if she felt unsafe and fear after the incident, the 39-year-old said, "I don't feel fear but there is a lot of anger. I don't hesitate to say this. Many of us are privileged to have opportunities and the confidence in ourselves that assures our safety, but most women in our country do not have that."
Talking about the need for change, the actor said, "A lot is being said but a lot more needs to be done about this issue. The day we have definite laws for the wrong doers and immediate punishment to them, that is when things will change."
Not only is Ash a favourite among TV channels, the lady has been named as an ambassador by the United Nations AIDS agency and will be tasked with raising awareness to prevent HIV among children.
Ash has also been ranked second in the top 20 most popular brand ambassadors worldwide, according to a recent survey. The study was conducted by WorldWatchReport, a leading international marketing research company in the luxury watch industry.
So if you thought a break from her film career had affected Indian film actress Aishwarya Rai Bachchan's popularity, think again.
ALSO READ:

Delhi gang-rape impact: Aishwarya Rai is angry but not scared



Salman Khan, Mohanlal spin their magic during Dubai CCL



Katrina Kaif and Ranbir Kapoor's romance secrets revealed
Follow Emirates 24|7 on Google News.