Are Ash, Abhi planning a bash for Oprah Winfrey?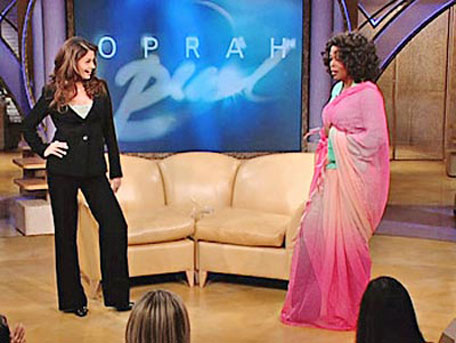 Talk-show queen Oprah Winfrey is all set to for her maiden visit to India.

And guess who is likely to host a party for Oprah- Aishwarya Rai-Bachchan and hubby Abhishek Bachchan.

Announcing her impending visit to the country, Oprah tweeted, "Yes! I am coming to India next month for 1st time as part of Next Chapter."

Oprah's Next Chapter is the next edition of her famous talk show in which she will travel around the world interviewing celebrities, newsmakers and others.

Replying to a fan in India, she said, "Too much for a tweet but let's hook up in Jaipur or Mumbai."

Oprah tweeted about her India visit last week. "Never been to India, it's been on my vision board forever (sic)."

She will be travelling to India to shoot with spiritual guru Deepak Chopra for Next Chapter.

She will also participate in the Jaipur Literary Festival to be held from January 20 to 22.

Aishwarya Rai-Bachchan and hubby Abhishek Bachchan are likely to throw an exclusive private party for American chat show queen Oprah Winfrey when she makes a stopover in Mumbai.

Sources claim that Oprah is keen to meet Abhishek and Ash's newborn daughter.

En route Jaipur, Oprah will be in Mumbai where the Bachchans are likely to play hosts. But there is no official confirmation from the Bachchans nor did Oprah mention about it in her tweets.

It might be a very private affair where the guest list will extremely small.

Aishwarya has appeared on Oprah's show twice. In fact the two seem to be quite fond of each other. Ash first appeared on the show in April 2005, where she gave Oprah a lesson on how to drape a saree.

Next time Ash was accompanied by Abhishek in September 2009. Oprah had introduced Abhishek and Asihwarya as the most popular celebrity couple - even more popular than Brad Pitt and Angelina.
Follow Emirates 24|7 on Google News.