Are the 2 Kapoors one: Aditya Roy dating Shraddha?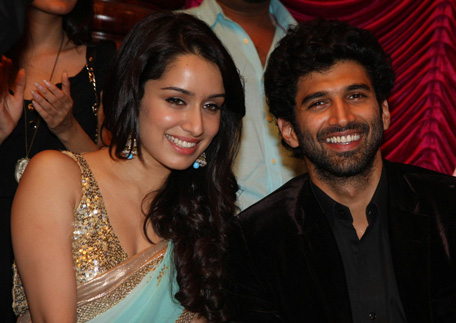 Ask Aditya Roy Kapoor if he was, or is dating Shraddha Kapoor, and he puts his career before love.

"I have come to this industry to try and establish myself as an actor. My entire focus is on my career. "Where do I have the dates to date anyone," he says.

The actor presently is romancing Katrina Kaif on screen in Abhishek Kapoor's film 'Fitoor'.

"Forget Katrina Kaif, I never thought I would
ever romance anyone on screen. I never thought I would ever be a hero.

"Even though my family is involved in production, I did not think of being a hero anytime and honestly, I have had a great time working with Katrina Kaif," says Aditya.

Aditya did find working with Katrina, a dream come true. "Honestly, I have seen her work and have been one of her biggest fans. And here is Abhishek Kapoor who puts me opposite the actress and asks me to
perform. I am wondering if whatever is happening to me is true," but then… it has been a fairytale story so far.

Aditya is not ready to turn the dream into a nightmare by rushing into quick decisions.

"I want to take things as they come, but will sign films only when I like the character. I would rather stay at home than work in films where I do not like the character," says the 'Aashiqui 2' actor.
Follow Emirates 24|7 on Google News.