Bade Acche Lagte Hain: Ram Kapoor, Sakshi turn on the heat again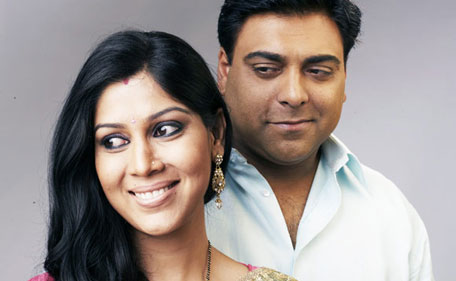 Romance is in the air as the hottest but estranged television couple - Ram Kapoor and Sakshi Tanwar finally patch-up.

Indian daily soap 'Bade Ache Lagte Hain' is about the intricacies of a relationship between a multi-billionaire businessmen in his mid-forties married to a middle-class lady in her mid-thirties.

The middle aged couple, who have shown that romance is possible between two married adults, said the three magical words to each other after numerous misunderstandings and ego battles.

The couple came together after lot of struggles has decided to kiss and patch up. But we expect some more sizzling chemistry in the coming episodes between the two love-struck couple and if fans permit should we say a make-up session.

It's only fair to expect this after their much controversial 'in your face' love making scene last March.

We hope this time when they decided to get under the sheets it isn't as cheesy as it was the last time.

Considering the controversy they courted, you never know the gutsy producer Ekta Kapoor may just repeat the scenario and make the audience cringe while stealing a glance with one eye closed.

Last time the audiences were shocked, stunned and surprised when the couple displayed their love making skills. Their bedroom scene was called the most intimate scene ever shown on Indian television.

There was outrage in some sections of the society as they argued that the content was not apt for family viewing. 'Bade Acche Lagte Hain' saw its ratings soaring high as the arguments continued.

Since then, the serial took a five years leap where Ram and Priya (Sakshi) parted ways and are now fighting for the custody of their five-year old daughter Peehu (Amrita Mukherjee).

As per the plot Ram and Priya are attending the wedding of their good friend's wedding where Ram Kapoor's second wife, Aayesha (Chahat Khanna) mixes a date-rape drug in Ram's drink.

By mistake, Priya consumes the drink. When Ram sees Priya is feeling unwell, he takes her to a room to rest.

As the two shares an enclosed room all to themselves there are every chances of them sharing an intimate moment.

Watch this space for all the details of this romance.
ALSO READ:
Bollywood face-off: Akshay Kumar ready to take on Salman Khan this summer


Are Ranveer, Vivek, Ameesha, Asin doomed to be in Bollywood's 'losers' club?



What lies ahead for Aishwarya and Malaika as they turn 40 this year



Bollywood wedding: Diya, Emraan, Jacqueline wish Udita Goswami & Mohit Suri
Follow Emirates 24|7 on Google News.