Bigg Boss love-birds: Tanisha, Armaan loyal to each other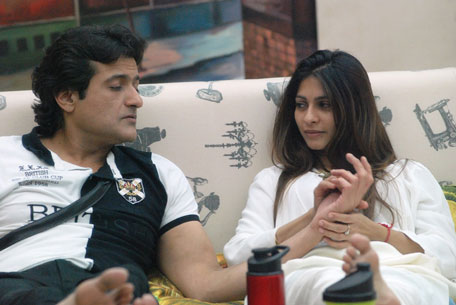 Reality show contestant 'Bigg Boss 7' contestant Tanisha Mukherjee and Armaan Kohli were totally non-committal about their relationship status during the show.

And their stance remains the same even after the show. But it looks like both cannot stay away from each other.

We have spotted their Goa getaway pictures with VJ Andy and catching up with friends when in Mumbai.

Now Tanisha can't stop praising her 'good friend' Armaan. In an interview to an Indian newspaper, Tanisha said Armaan is her best friend.

She asserted that their friendship is like a relationship.

Audiences have seen the couple get up-close and personal during the reality show.

Their on-camera intimacy raised eyebrows but the couple threw caution to the wind and carried on with their show of affection.

After the show the two have been inundated with queries about their relationship.

Tanisha shot back at reporters saying media can interpret their relationship as they want.

Now in the recent interview she again said, people have seen everything that there was to see and can define it the way they want to.

She is bowled over by the way Armaan has been faithful and supportive towards her throughout their stay in the glass-walled house.

According to Tanisha the best thing that happened to her in the house was that no matter what happened they stood by each other.

In the show Tanisha was often dominated over by Armaan and she was called his door-mat.

But the actress remains unfazed. She was also accused of supporting Armaan even when he was at fault.

She blames it on her being "loyal to a fault" and says Armaan comes from the same school of thought.

Tanisha is very clear that she is not answerable to anyone and would not want to justify or clarify her proximity with Armaan.

Post the show, her eyes are set on the entertainment industry.

Well Bigg Boss has come to an end, but as they say the show must go on.
Follow Emirates 24|7 on Google News.