Bipasha Basu leaves Harman blushing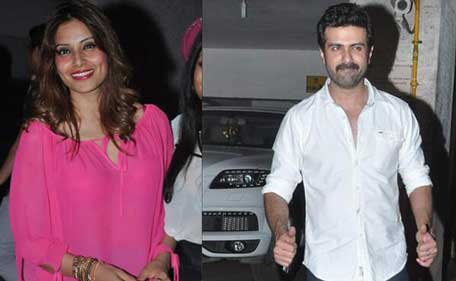 Harman Baweja is now feeling very shy after Bipasha Basu tweeted about the status of their relationship, hours after Harman gave an indication that the two were indeed together.
So we asked Harman Baweja the question when he steps out to promote the film 'Dishkiyaoon', which has been produced by Shilpa Shetty.
"I don't know. If she has said so, believe it," he smiled shyly.
Prod him further and Harman Baweja says: "I am not evading the question. I said what I had to say and she said what she had to say.
"She is just being generous to me. Both of us are dating each other, we are seeing each other," says the actor and is happy to be let off after that.
Not satisfied, we ask Shilpa Shetty as to what are her suggestions for the couple.
"What can I suggest to them?" We ask her about the side effects of marriage. "There are only side effects. I have been affected badly," she guffaws.
Bipasha Basu did spend a lot of time with Harman on the sets when the film was being shot. So did that affect the production budget of her film? "Of course not, leave them at peace," she smiles.
Follow Emirates 24|7 on Google News.