Bollywood goes back to the future with Priyanka Chopra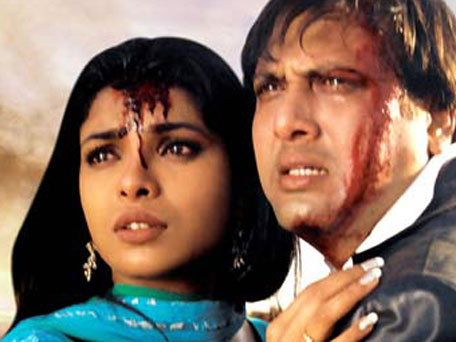 Take a look at this photograph.
If you are one of those who has just tuned into cinema and on to your TV sets this is the Priyanka Chopra you have never seen before. This was her before she got her nose job done and when she was just 18-years old. The film is now called Deewana Main Deewana.
The movie was made long ago was called Ek Hasina Ek Deewana and was directed by a debutant director called Vincent Selva. Bokadia had planned to revive it seven years ago and wanted to name it Bekasoor and release it, but the plans went kaput for some reason. Vincent Selva is nowhere in the picture today and Bokadia is calling himself the director of the film as well. And now the film is finally up for release and Bokadia has conjured up some funds to release this long standing film and also managed to whip up the support of his heroine Priyanka Chopra who has come forward like a damsel to help the director in distress.
When the film was made Priyanka was a newcomer and Govinda was one of the busiest stars. Now Priyanka's presence at the promotion is like a wave of the magic wand for Bokadia.
Normally actors do not come to promote their old films which were held up or stuck in the cans for fear of their market value falling drastically.
Sharman Joshi did not come to promote his film 3 Bachelors when the filmmakers tried to release the project in the wake of his Ferrari Ki Sawaari release. Akshay Kumar also distanced himself from the Shirish Kunder directed Joker promotions because he did not like the film.
For Priyanka who completes 10 years in Bollywood, the song was like nostalgia at its very best. "When I shot a song for this film I was just 18 years old. It was the first song I was ever shooting for in my life and career and when I attend the music launch of this film I realise that I have come such a long way. It takes me back an entire decade," says the actress nonchalantly.
If one glances at the way Indian cinema has progressed in the past decade, there have been a multitude of changes in the way films are made and subjects handled in Bollywood.
But then Priyanka Chopra feels that there is always a market for love stories because the film is a lovely tale, told well. "There are many reasons why films get postponed. But then this does not mean that love decreases because the film has been delayed. Every film comes with its destiny and if the movie is good and honest, people will like and appreciate it even today," says the actress rather confidently.
KC Bokadia meanwhile wanted Priyanka to shoot a fresh song for the film, but the actress refused to comply.
"Bokadiasaab was keen that I do. The film has taken a pretty long while to make, so I did not shoot the song now," says the actress. Priyanka is right. There is a huge difference in the way how she looked earlier and how she looks now and hence there would have been a huge continuity issue.
Right from her body language to her style statement everything about Priyanka has changed. So once the film releases, we will know whether the audience goes deewana over the old Priyanka or not!
Follow Emirates 24|7 on Google News.