Emma Roberts almost rips Isabelle Huppert's dress at the 89th Academy Awards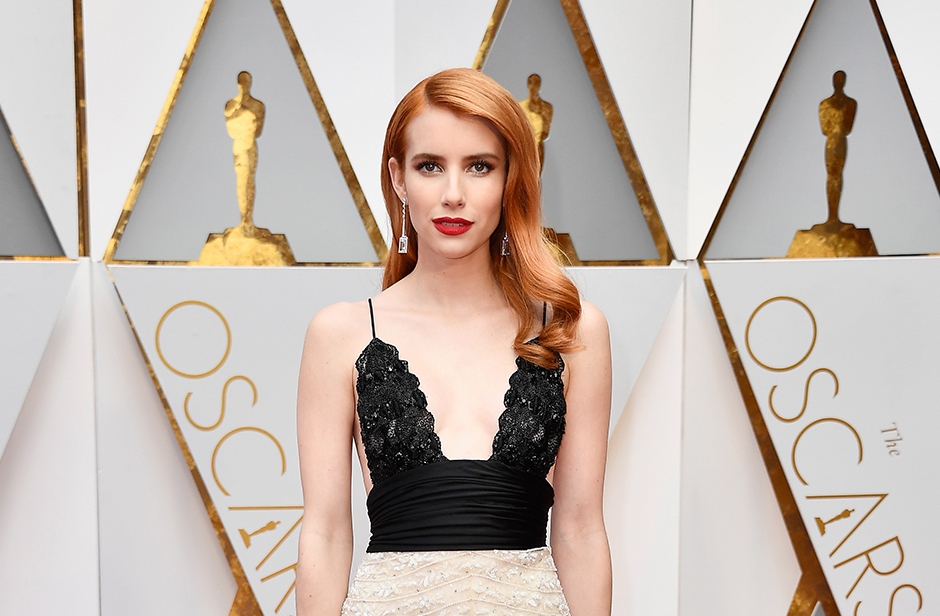 Emma Roberts almost ripped Isabelle Huppert's Armani Prive dress at the 89th Academy Awards, and was close to falling over and ruining her own gown at the event.
The 26-year-old actress accidentally trod on the 63-year-old French stars Armani Privé gown whilst the pair were on the red carpet at the prestigious event, which took place at the Dolby Theatre in Los Angeles on Sunday, and she apologised profusely during an interview with ET Online.
Speaking about her wardrobe choice, which was interrupted when she stepped back onto Isabelle's ensemble, the flame-haired beauty said: "This is Armani Privé. I'm actually here for Red Carpet Green Dress, which is... Oh my god! I'm so sorry!
"I can't believe I stepped on her dress! I love her!"
Although the 'Scream Queens' star was in shock horror about the incident, she had to "shake it off" and forget about the mishap.
She continued: "It's OK, it's fine, just shake it off."
However, stepping on Isabelle's garment wasn't the only unfortunate event that happened to Emma during the ceremony, as she "almost face-planted three times" on the red carpet.
Speaking about her calamities, she said: "Isn't there like a moon eclipse tonight? Weird things are happening because, literally I never trip, and I've almost literally face-planted three times walking down this carpet, so I don't know what's in the air. I almost ripped her dress!"
Emma, who adorned an Armani Privé 2005 vintage monochrome design, was in "love" with the garment and is grateful for the "village" of people, as well as her family, who helped style her for the extravaganza.
Alongside a string of pictures of her prior to the bash, which she posted on her Instagram account, she wrote: "LOVE my vintage @Armani dress & @swarovski jewels!! Thank you to @RedCarpetGreenDress for making this day special. #RCGD #Oscars2017 and oh hi Aunt Julia
"Getting ready for #Oscars2017 thank you to my village hair: @nikkilee901 makeup: @ctilburymakeup style: @britelkin@kakeykake @elkin nails: @jennahipp and also my mom and little sis for making me laugh @ggrace_nickels (sic)."
Follow Emirates 24|7 on Google News.