Harrison Ford 'battered' after crash landing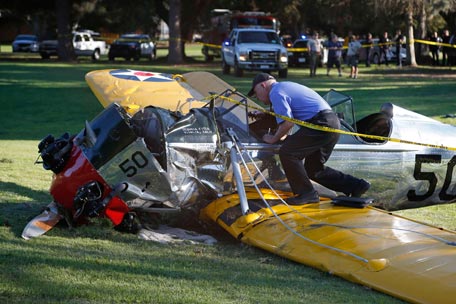 Harrison Ford is expected to make a "full recovery" after his plane crashed yesterday (05.03.15).

The 72-year-old actor suffered wounds to his head when the two-seater plane he was piloting smashed into Penmar Golf Course in Venice, Los Angeles after he was forced to make an emergency landing when the engine malfunctioned, and though he remains in hospital, his injuries are not life threatening.

His spokesperson said: "Harrison was flying a WW2 vintage plane today which stalled upon take off. He had no other choice but to make an emergency landing, which he did safely.

"He was banged up and is in the hospital receiving medical care. The injuries sustained are not life threatening, and he is expected to make a full recovery."

And the 'Star Wars' actor's son Ben has reassured fans his father is doing "OK".

He tweeted: "At the hospital. Dad is ok. Battered, but ok! He is every bit the man you would think he is. He is an incredibly strong man."

According to the National Transportation Safety Board (NTSB), Harrison reported a loss of engine power to his plane and appeared to have hit the top of a tree before landing on the golf course.

The vintage training plane nose dived into the grass shortly after takeoff from the Santa Monica Airport, according to Ian Gregor of the Federal Aviation Administration.


Follow Emirates 24|7 on Google News.