I am not pregnant: Vidya Balan refutes rumours about the side effects of her 'Shaadi'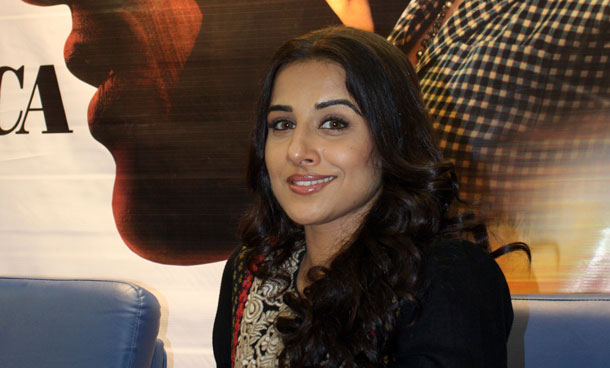 Vidya Balan's visit to the doctors have been raising a few eyebrows specially since it is a year that she has been married, but the actress clearly denies that she has only been visiting the doctor and that no stork will be visiting her anytime soon.

"No, I am not pregnant and, it will take a while now. If I say something, you will tell me get ready and be alert etc. But now, there is no news like that coming up in the near future and I don't think I want Siddharth (husband) to think like that as well," says the actress brushing aside the idea that the side effects of the marriage have started off.

So what are the side effects of her marriage like now? "I always tell everybody that there are certain side effects of the shaadi now. But it really depends on how you look at it. If you are in love you find the side effects positive, and if you are not, then 'God help you'!" guffaws the actress with a degree of nonchalance.

The actress also bagged the prestigious Padmashri Award from the Indian government this year and when encountering a query on whether she wouldn't have won the award had she not got pregnant or dirty (her roles in Kahaani and The Dirty Picture), she smiles.

"I think I am very grateful for the kind of work I have done. It is all about the kind of cinema that I have been associated with that has got me to where I stand today. I feel very grateful and blessed. The Padmashri is an unbelievable honour," says Balan.

The actress has Shaadi ke Side Effects coming up soon opposite the Bhaag Milkha Bhaag actor Farhan Akhtar and Vidya describes the film. "Shaadi Ke Side Effects is more from the male perspective - a male point of view of shaadi (marriage). It's his imagination of how life would be if he was still single," she says.

As for her co star in the film, she refutes the theory that he has a wicked sense of humour. "Farhan doesn't have a wicked sense of humour, but rather a crackling one. He has got a great presence of mind. I love that kind of work experience and yes, he is shy when it comes to compliments," she adds.

Balan in the meantime is readying to be Lady Bond and the first female detective in contemporary Hindi cinema with the film Bobby Jasoos. "Bobby Jasoos was a great fun. We completed the film in 51 days flat. The environment that was created by producer Dia Mirza ensured that everyone felt like they were contributing to the film," she gushes.

"It's a female detective film. It's a women oriented film. It's a human story. I don't think of the other films in the same genre coming up, but I reckon that each film would be unique. I am looking forward for how people will react to Bobby Jasoos," she rattles off, all in one breath.

One final query. Why did she have a brunch only for women journalists? "Women are anyways accused of gossiping. So we thought, we should keep the men out of it," she signs off, twinkle in her eye.
Follow Emirates 24|7 on Google News.