Is Jemima Goldsmith ruining Imran Khan's new marriage?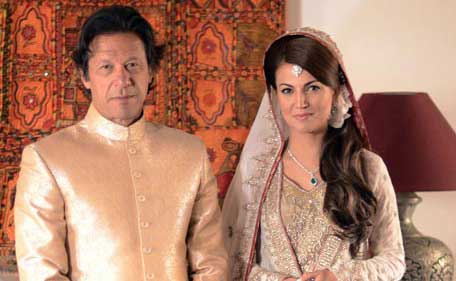 Pakistani cricket legend and politician Imran Khan and Jemima Goldsmith divorced in 2004 after nine years of marriage, but they have remained on friendly terms.
Since then Jemima has been involved with actor Hugh Grant and comedian Russell Brand.
In this handout photograph released by the Pakistan Tehreek Insaf (PTI) party on January 8, 2015, Pakistani opposition leader Imran Khan (L) and new wife Reham Khan pose for a photograph during their wedding ceremony at his house in Islamabad. AFP
In January 2015 Imran secretly married former BBC presenter Reham.
Few weeks ago Jemima posted a picture online with her two sons, Sulaiman, 18, and Kasim, 16, at the breakfast table with Aleema Khanum, one of Imran's four sisters.
'With phuphi,' Jemima said, using the Urdu word for auntie.
Now in startling report MailOnline quotes Reham's cousins saying that Jemima is running a smear campaign against Imran's new wife.
The cousin claims Jemima is behind the negative stories that have appeared about Reham.
And the motive behind these negative stories is to shake the bond between the happily married couple.
The cousin thinks that since Jemima has no permanent man in her life and hence is jealous of Imran's happy life.
Jemima with Imran Khan in 2002. (Reuters)
These allegations come after a string of damaging reports about Reham.
Soon after the couple married in Pakistan, Reham's ex-husband, NHS psychiatrist Dr Ijaz Rehman, spoke out to deny her claims that he had mistreated her during their marriage.
Dr Rehman said that he always took care of his three children and his wife.
It was also disclosed that Reham never attended the Lincolnshire college she had claimed on her personal website.
She said she studied journalism at 'North Lindsay College' in Scunthorpe. However, the college confirmed that it had never taught journalism and had no record of her being a student.
Subsequently changes were made in website to state that she went to the Grimsby Institute.
Jemima's spokesperson denied such allegations.
Follow Emirates 24|7 on Google News.