Kareena Kapoor is not pregnant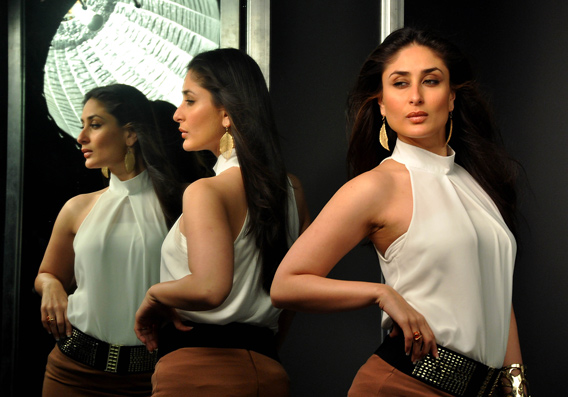 Last week a couple of healthy Kareena Kapoor pictures were published in a tabloid in India. Thus resulting into a perfectly concocted story as to why Kareena looked plump or why was she dressed in a loose casual T-shirt.
It was a perfect example of a made up story with some speculations and strategically selected picture.
But a point to be made is that when the tabloid published those pictures they never made a statement that Kareena was pregnant. All they did was posted the picture and questioned Kareena's attempt to cover herself up, to be precise her belly.
The tabloid in question, MidDay, later posted another picture of Kareena in an event and all they wrote was, "The actress preferred a loose flowing top. Ever since the actress was spotted last week at the airport trying to conceal something below her tummy, speculation has been rife about Bebo and her belly!"
Rest was left to wild imaginations for the media. The picture was taken as reference by the country's leading newspapers and dotcoms to make their own conclusion that the 'Heroine' actress was pregnant.
For sure the news must have trickled down to Kareena or else why would a friend of her come out to give explanation to the media on the actress' behalf.
According to ZeeNews, her friend clarified that Kareena is not pregnant. It is just media frenziness surrounding the picture which is baseless but otherwise it's business as usual for Kareena.
The actress will resume her shoot for her next project 'Heroine' from end of February which will continue for 25 to 30 days.
If one remembers Aishwarya Rai Bachchan was first considered for Madhur Bhandarkar's 'Heroine' but her pregnancy toppled Madhur's plan and he had to ask Kareena to step into Ash's shoe.
Kareena's pregnancy theory must have sent some jittery in Madhur's spine. But if Kareena's friend is to be believed Madhur can heave a sigh of relief.
Follow Emirates 24|7 on Google News.