Katrina, Ranbir romance secrets revealed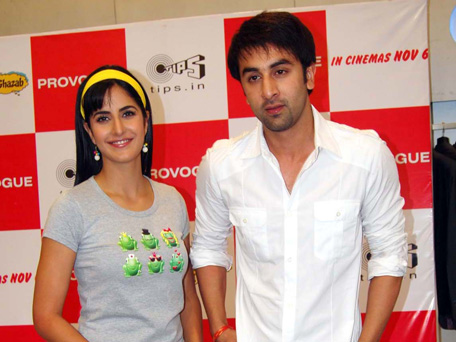 It seems like the couple that has been known more for denying their relationship than admitting it, is finally back together.
No, Ranbir Kapoor and Katrina Kaif are not accepting it (yet again) but we are not dumb, are we?
They have been seen on numerous occasions meeting secretly, catching up at wee hours, having coffee in lonely cafes and flying abroad for holidays.
And if we go by eyewitness account Ranbir Kapoor and Katrina Kaif were seen getting intimate throughout their flight journey from Frankfurt to Mumbai. They were seated in row 81 seat #J & K upper deck First Class to be precise!
And still they claim to be single!
We believe you Ranbir, Katrina!
In the latest, we came to know that Katrina flew down to Chandigarh to spend some time with Ranbir who is presently there shooting Abhinav Singh Kashyap's 'Besharam'.
She took a flight to Chandigarh on Thursday and plans to stay there a couple of days with Ranbir.
A couple of years ago, one the most talked about and speculated couples, Ranbir-Katrina ended their rather dynamic relationship. And guess what (or rather who) was the reason behind the split; it was none other than Ranbir's 'Rockstar' co-star Nargis Fakhri.
The two had trouble keeping the relationship steady. And the fact that Ranbir was spending a great deal of time with Nargis Fakhri was not helping the situation. Katrina and Ranbir had loyalty and security issues for months.
It was obvious for Katrina to feel insecure, after all Ranbir cheated on Deepika Padukone when he and Katrina started dating.
Yes it's true, Ranbir and Deepika split because of Katrina. They came close together while filming 'Ajab Prem Ki Gajab Kahani'. But Deepika caught Katrina visiting Ranbir in New York over New Years when he was shooting with Priyanka Chopra for 'Anjaana Anjaani'. Deepika knew all along that Kat and Ranbir were getting too close for her comfort and Deepika was fed up of constantly being lied to.
But Deepika now seems to be warming up with a certain Ranveer Singh and Ranbir after a long time seems settled with one girl.
So we wonder why this cat and mouse game Ranbir, Katrina.
MUST READ:
Another reality star? Pregnant Kim Kardashian expecting baby girl
Salman Khan, Mohanlal spin their magic during Dubai CCL
Aishwarya Rai's new career move - star of Indian TV channels
Follow Emirates 24|7 on Google News.